Luxury Wooden Chess Storage Box| Top 10+ Cases & Cabinet
As well as chess sets and chess pieces, we also offer chess boxes for safekeeping your valuables. Some people prefer to store their chess sets in a chess storage box, despite the fact that the wooden chess pieces are usually meant to be displayed. We carry style chess boxes to add to an elegant chess set display. The high-grade wood used for making chess boxes is always precious, beautiful, and safe. For Henry Le's artisans, a chess box is not simply a box but a work of art. These chess boxes are not meant to be carried around, but rather to be used as part of a larger display.
---
Chess box is a necessary item to protect your precious chess pieces from getting damaged. Do you have children at home, or do you adopt some pets running around all day long? What if they destroy your chess sets by chance, just because you leave it on the table and it is within the reach of those young buddies? Well, you don't have to worry anymore, since we provide you with the chess box. It is extremely durable and able to keep your chess pieces extra safe.
Chess Box For Chess Pieces
In chess, not only are chess sets and chess pieces important, but the chess boxes are also irreplaceable items playing the role as "armor of the game". Although the hand-carved wooden chess pieces are frequently meant to be displayed, some individuals need a chess storage box. It will help keep the chess pieces safe from any kind of damage, making sure your chess set functions properly. Having a chess storage box is a wonderful idea to secure your priceless chess set, of course, if you have little pets or children wandering around.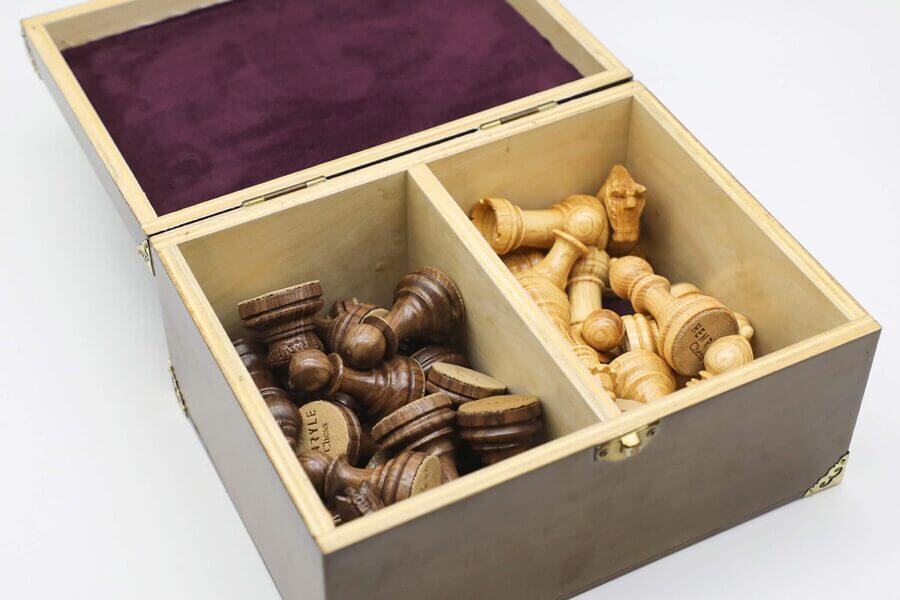 Chess boxes appear in different materials and designs. They serve many purposes, from becoming protective items to decorative ornaments.
Types Of Chess Boxes
Depending on the type of wood used to make the chess box, the pieces in the chess boxes come in a variety of shapes, sizes, colors, and finishes. These are exquisitely detailed ancient chess pieces with a matte finish that look stunning on a glossy, expertly lacquered chessboard. Matte chess pieces contrast beautifully with glossy chess boards, especially when the dark and light colors are complementary. Materials like ivory, metal, or stone chess pieces can enhance the visual appeal. Some chess boxes are offered in such a way as to give cushioned storage space for every chess piece, preventing the pieces from slamming into one another and breaking. If the chess sets will be utilized while traveling or being moved, these come highly recommended. Coffers, slide-top boxes, fitted briefcases, conventional coffers, or customized boxes are the most common types of chess boxes. The slide-top boxes include removable partitions between parts and are smaller than coffers. Most of them have quadrant hinges and a green fabric lining.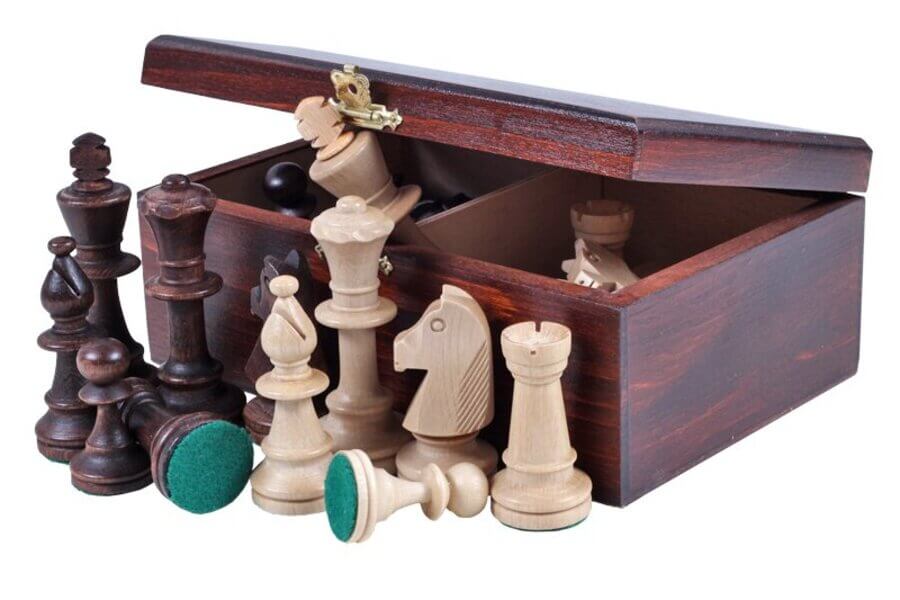 High-quality boxes are available in a variety of sets so that they are not mismatched. These boxes include chess boxes made of hardwood, leather, vinyl, and boxwood. The premium chess boxes are frequently carded from premium boxwood to ebony, and the pieces fit perfectly into their distinctive compartments. If made in accordance with Staunton standards, chess pieces can fit properly and damage-free into any chess box. Some items include green felt base pads that are more affordable or leather base pads that prevent scratching on shiny surfaces. Wood may be taken into consideration when pairing chess boxes and pieces often. For example, natural boxwood and real ebony chess pieces can be placed in mahogany, walnut, or teak boxes. Contrasting dark colors can be used to store chess pieces that are more reddish-brown in tone and made of natural boxwood and blood rosewood.
How To Choose A Perfect Chess Box?
Style Of Chess Box
Chess enthusiasts can choose from a number of chess sets with replaceable chessboards and pieces for extra diversity. To keep every piece precisely in its position, they are sometimes kept in magnetic folding boxes, wooden folding boxes, or wonderfully carved wooden chess boxes. Even if the latter may sound scrumptious, there are many chess boxes that exhibit exquisite workmanship and designs. Some are only chess pieces, while others entire boards. To complement the chess boxes and boards appropriately, chess pieces come in a broad range of forms, sizes, styles, and materials. The Staunton chess pieces are made in countries including India, Italy, and Spain and are sold by a variety of retailers. In terms of layout and aesthetics, these are frequently used in conjunction with exquisitely built Staunton chessboards.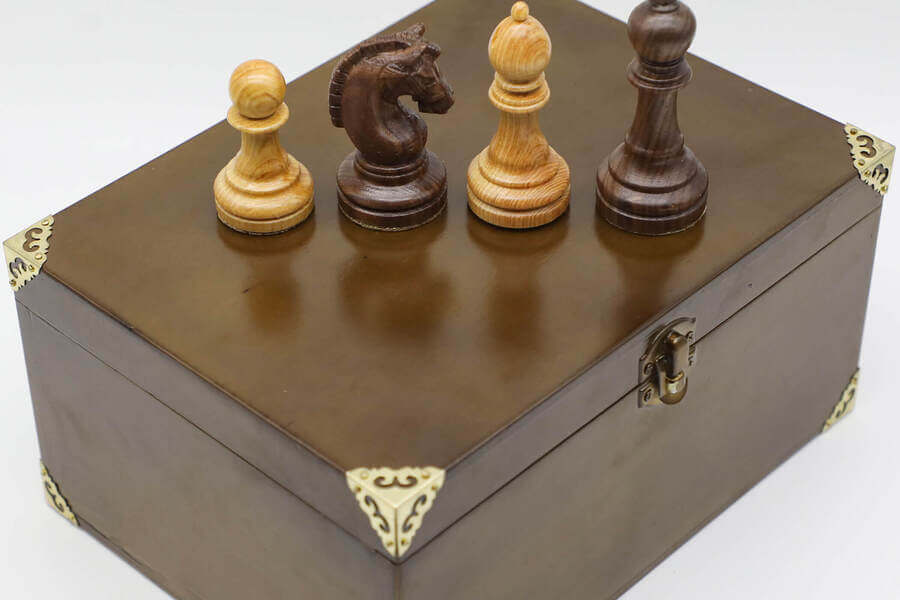 Right Chess Box For The Right Pieces
Chess sets can include Lewis Ivory or Mahogany chess sets, which contain several types of chessboards and pieces, or ancient wooden chess boxes, which are quite exquisite and have a lasting appeal. Heirloom chess pieces in a variety of sizes and designs can be stored in such exquisite wooden chess cases. These chess boxes are created by hand in Italy at the Official Staunton Chess Company and are of the highest caliber. The good value Economy chess boxes are available for chess pieces that are between 3.5 and 4.5 inches in length. These chess boxes are economical and accessible despite the inclusion of certain premium components and designs. These may be combined with the appropriate chessboard and chess pieces for a reasonable price to complete the set.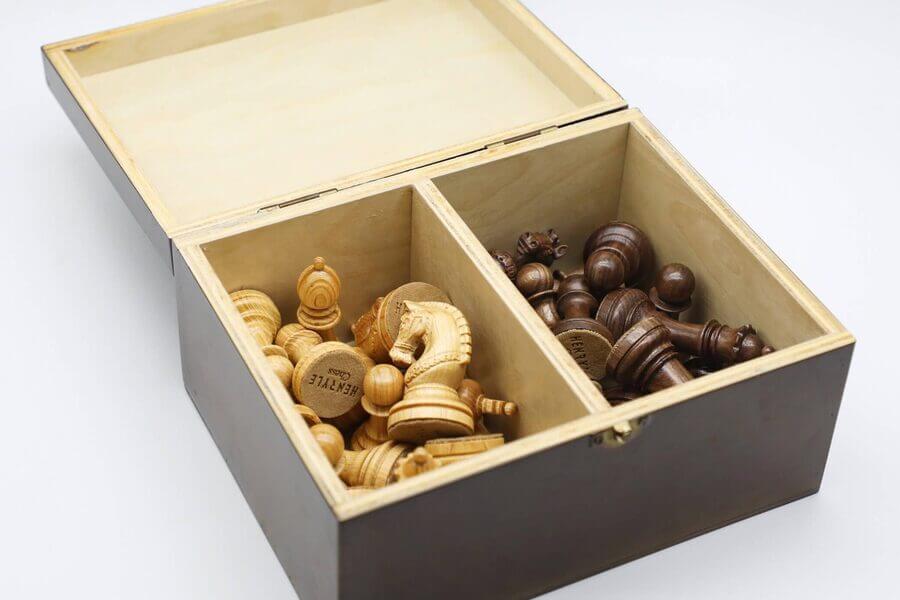 The same artisans that make heavenly chess pieces and chessboards also make luxury chess boxes out of high-quality wood. These woods include rare and expensive woods like rosewood, sandalwood, and black ebony and can vary from mahogany to naturally striped ebony wood. Typically, these chess pieces are placed on sturdy, black, and somewhat shiny boards. With warm, rich orange, purple, red, and deeper tones, these woods are less traditional and have a more attractive grain pattern. For the entire set to have a cohesive appearance, however, the chess pieces and the chessboard must match. If the chess set has any dark pieces, they should blend in perfectly with the dark squares on the board. To guarantee that the chess pieces show out evenly on the light and dark squares, a combination of light and dark colors is helpful.
Are Chess Pieces Well Protected In A Box?
The answer is "yes", no matter what materials your chess pieces are made of. Chess pieces can be constructed of a variety of materials, including durable ones like premium wood, stone, or metal, as well as more delicate ones like glass or porcelain. It is crucial that they are preserved in a method that is ideal for their future usage in order to guarantee that they keep their size, shape, and form. In terms of storage, durability is crucial since you don't want your chess box to be coming apart or to be easily damaged, which would reduce its appeal. Therefore, when selecting sturdy chess pieces, plastic and wood can withstand significant wear and tear and greatly reduce breakages or chips. These are also great for traveling with kids.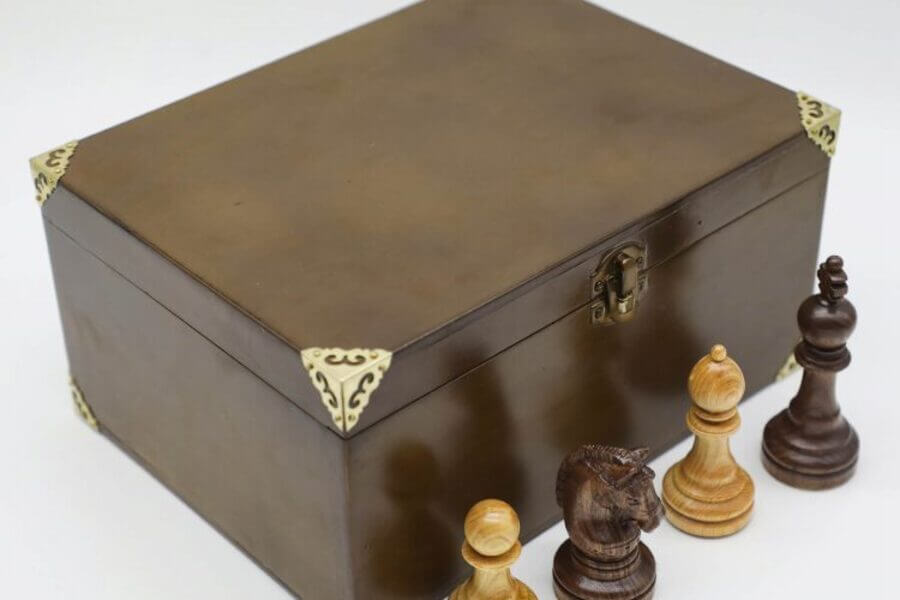 Chess pieces need to be handled in coffered boxes that are designed to cushion each piece independently if they are fine and extremely fragile in nature, like glass or porcelain. Some pieces can withstand continual movement and use, so they can be housed in slide-top boxes, fitting briefcases, or chess boxes without specific compartments. Consequently, there is always a less expensive solution for their storage. These chess boxes must also be carefully examined in terms of maintenance, such as polishing or hinge replacement.