Hand Carved Wooden Ambassador Chess Set | Best 10+ Set With Boards And Tables
The Hand Carved Wooden Ambassador Chess Set has been handcrafted and hand-finished out of the finest walnut natural and stained wood. It deserves to be the most popular in Henry Le's Unique Chess Collection due to its size, design, and artistic flair. Its artistic reinterpretation of the celebrated Henry Le pattern results in a piece that is both lovely and useful at the same time. All of the chess pieces, as well as the chessboard, feature an artistic design that has been hand-burnt into the wood by the artisans.
Luxury Hand Carved Wooden Ambassador Chess Board And Tables
---
Wooden chess boards come in a variety of designs, including magnetic, foldable, rosewood, and others. Make sure the wooden chess board you select is crafted of high-quality wood and that it complements your playing style and preferences.
Why Are Wooden Chess Boards So Popular?
The most common kind of chess board among beginners and experts is made of wood, but why are they so coveted?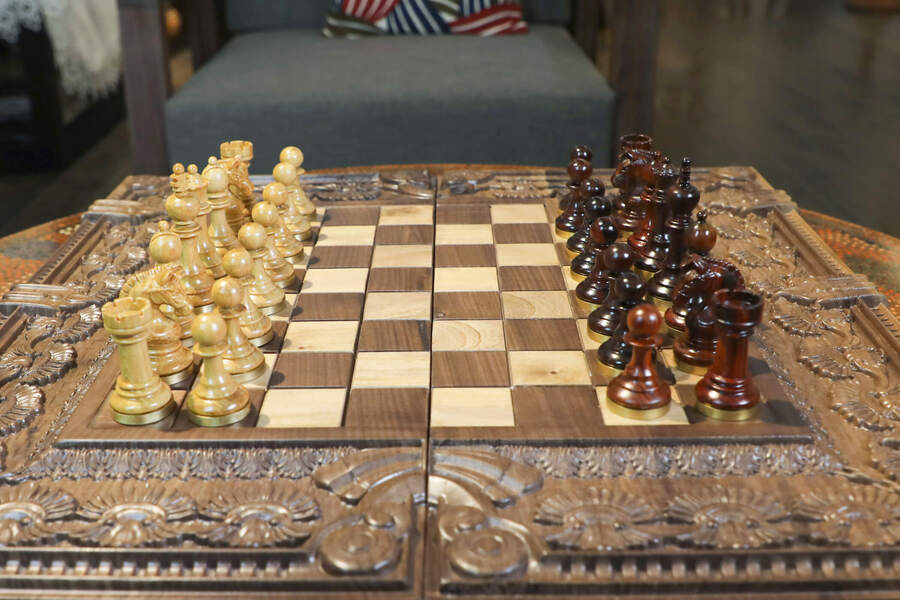 The classic appearance of wooden chess boards contributes to their popularity. Their construction also contributes to their premium feel and appearance. Wooden chess pieces have eye-catching and distinctive colors because to the use of various woods and carving techniques, such as Ebony and Boxwood and Rosewood and Boxwood. Wooden chess boards are also perfect for competitions since they encourage calm and assured play due to their plush texture, convenient placing, and aesthetic simplicity. They frequently adhere to the Staunton pattern that experts and amateurs alike consider to be the norm. Staunton boards therefore provide a superb gaming experience and tournament regulation boards in addition to appearing beautiful with their exquisite, detailed carvings.
Types Of Wooden Chess Boards
There are essentially two categories of wooden chess boards based on their level of quality. Their manufacturing process usually determines their quality. Wooden chess boards that have been hand carved tend to be of higher quality and cost more money. Wooden chess boards created by machines, however, are less expensive and of worse quality.
Handmade Wooden Chess Boards
Chess boards manufactured by hand are pricey because each piece is individually carved by skilled artisans. The wooden chess pieces are hand carved from a single block of wood, albeit there could be a few minor variations as they are not manufactured. Similar to this, square by square, hardwood chess boards are hand crafted.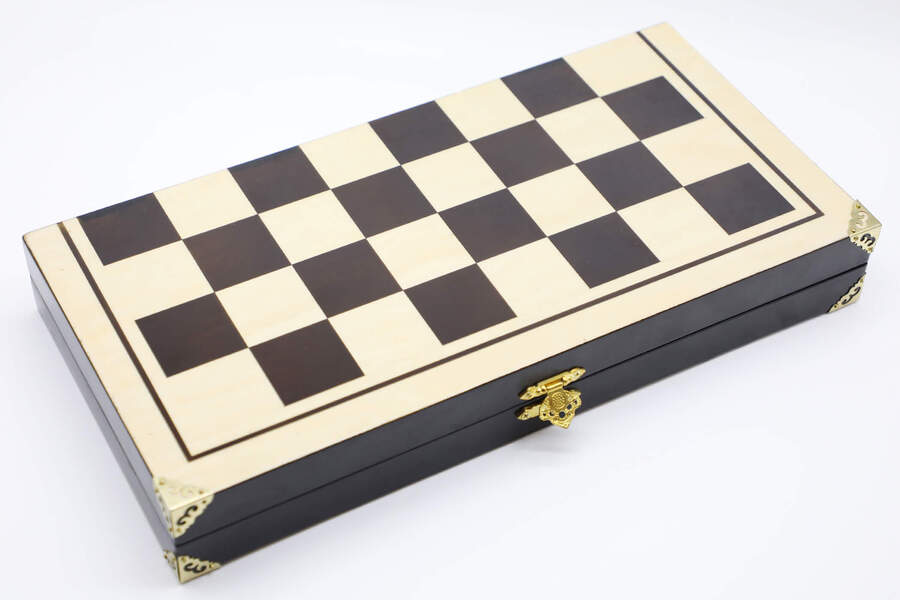 Chess boards take longer to make by hand since it takes hours of labor. That also implies that they are costly to produce and purchase. However, hand carved wooden chess boards are coveted and of excellent quality, just like any other hand-made object.
Machine-Made Chess Boards
Wooden chess pieces are manufactured by machines using molds or blueprints. In contrast to handmade creations, each one will be identical. Due to their speed and lower production costs, chess boards created by machines also typically cost less. This implies that there are more accessible for purchase, which may also lower market prices.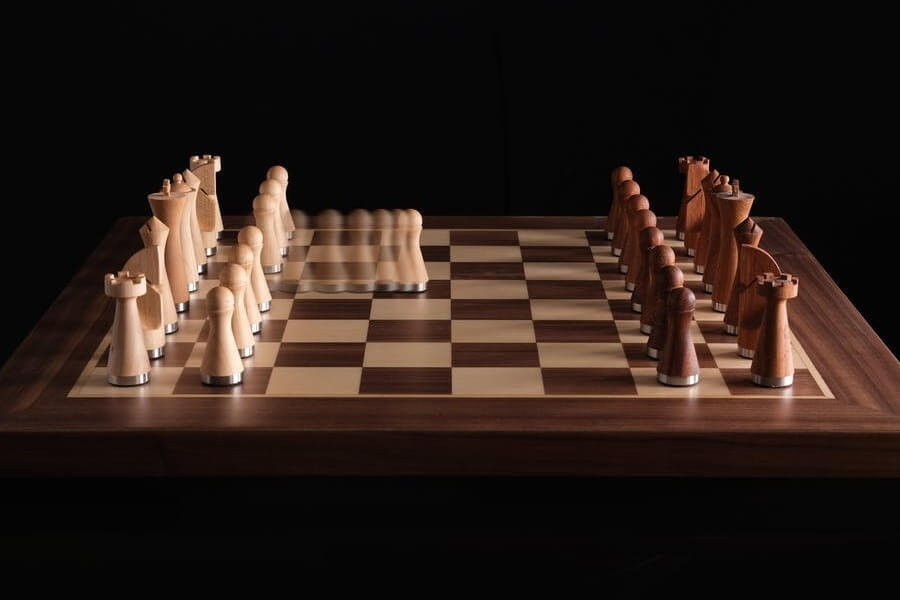 Your choice of a hand- or machine-made chess board depends totally on your aesthetic preferences and financial constraints. Due to the durability of wood as a material, all varieties of wooden chess boards should be at least relatively long lasting.
Types Of Wood For Chess Boards
A wooden chess board may be made from a wide variety of wood kinds. Walnut, Maple, Rosewood, and Mahogany are the most popular because they are durable and easy to carve. However, some chess board designs combine several types of wood. To create the various colors of the board and pieces, some higher-quality wooden chess boards will employ different species of wood during manufacture.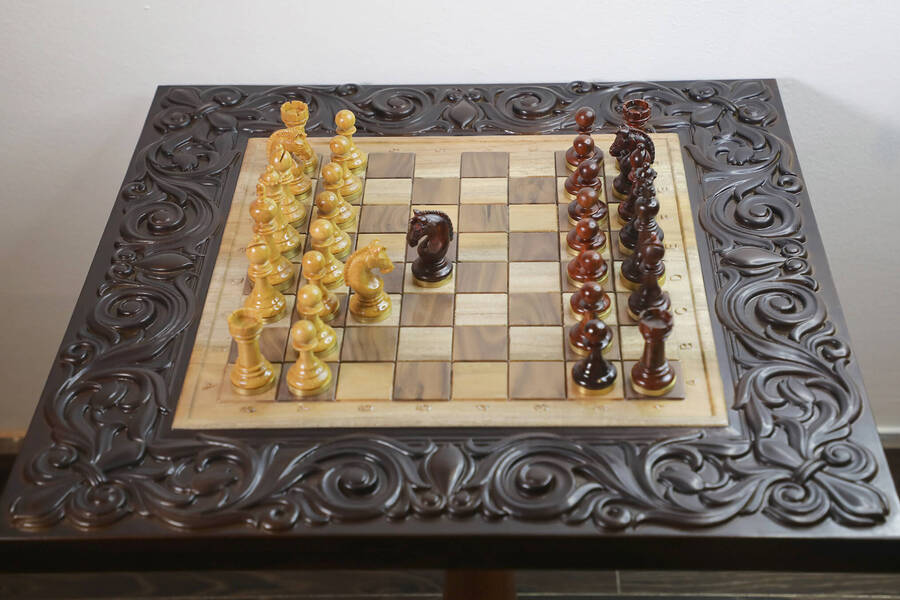 Best Type Of Wood For A Chess Board
Choosing the ideal wood for your chess board ultimately comes down to taste. Although the wood's quality is important since it will determine how long the chess boards will last, each wood has unique qualities and traits. Based mostly on how it seems, selecting the best one for you is a very personal decision.