About Women's Grand Prix
The Women's Grand Prix refers to a series of chess tournaments organized by FIDE (the International Chess Federation) specifically for women players. The Women's Grand Prix was introduced in 2009 as part of FIDE's efforts to promote women's chess and provide more opportunities for female players to compete at the highest level.
The Women's Grand Prix consists of several tournaments held over a two-year cycle. Each cycle typically includes around five tournaments, hosted in different countries around the world. The exact number of tournaments and the locations may vary from cycle to cycle.
The participants in the Women's Grand Prix are selected based on various criteria, including ratings and performances in previous tournaments. The top women chess players from around the world, including former world champions and rising stars, often participate in these events.
The Women's Grand Prix tournaments follow a round-robin format, where each player competes against every other player in the tournament. The players earn points based on their performance, and the overall winner of the Grand Prix is determined by the cumulative points earned throughout the cycle.
The Women's Grand Prix serves multiple purposes, including providing women players with the opportunity to compete against strong opponents, accumulating valuable rating points, and earning qualification spots for the Women's Candidates Tournament. The winner of the Women's Candidates Tournament becomes the challenger for the Women's World Chess Championship title.
The Women's Grand Prix has significantly contributed to the development and visibility of women's chess. It has helped to nurture talent, showcase the skills of female players, and inspire more women and girls to take up chess competitively.
FIDE Women's Grand Prix 2022-23
Time
The Women's FIDE Grand Prix Series 2022-2023 consists of four Women's Grand Prix tournaments held over two years (2022-23):
1st – Astana, September 17–30, 2022.
2nd – Munich, February 1–14, 2023.
3rd – New Delhi, March 24 – April 6, 2023.
4th – Nicosia, May 15-28, 2023.
On May 16-27, Nicosia is hosting the fourth and final stage of the 2022-23 Women's Grand Prix series. In the Grand Prix series, a total of four tournaments with 16 players are played. Each player takes part in three of the four tournaments, and each of the four tournaments is played with 12 players.
Each round starts at 14.00 CEST (8.00 ET, 18.30 IST) except for the last round, which will start two hours earlier. May 22 will be a rest day.
Current standings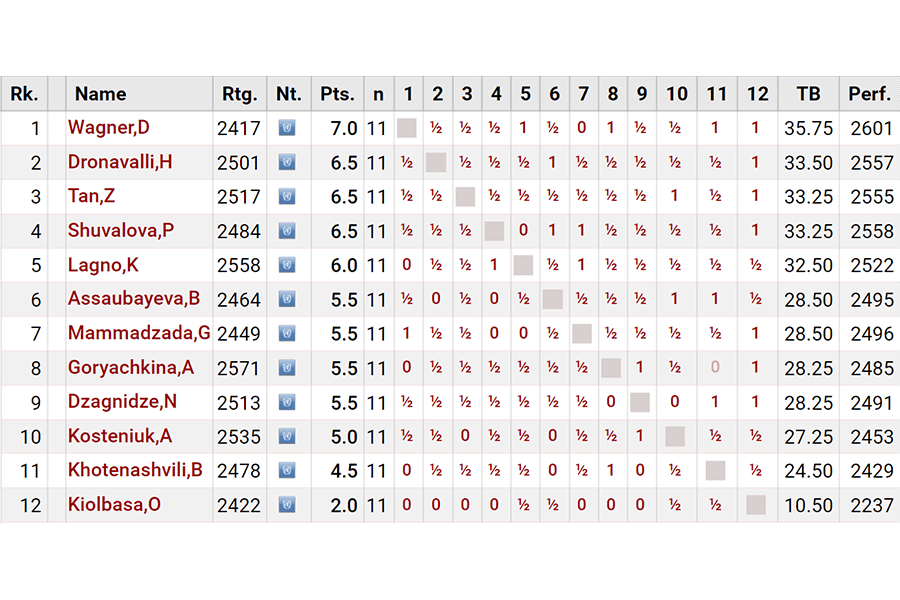 Prize
The total prize fund for each one of the four events is €80,000, with another €80,000 being distributed among the top 8 finishers in the overall standings for the Grand Prix series.
The two (2) players who score more cumulative points in the WGP series qualify for the FIDE Women Candidates Tournament 2023-24.