"Who is the best chess player in the world" is one of the most frequently asked questions when it comes to chess. Chess has produced numerous legends, world champions, challengers, elite players, and grandmasters over the years.
Henry Le Chess Sets adopted a new strategy since rating inflation makes it hard to compare performers from various eras using their ratings. The top ten legends who ruled the world of chess during their eras have been covered.
Best Chess Player #10 – Alexander Alekhine
From 1927 through 1946, Alexander Alekhine, the fourth acknowledged world champion, held the title (with an exception during 1935-1937). He was an outstanding player who has a remarkable talent for combinational play in challenging circumstances. He also demonstrated to the chess community that norms and principles may be bent based on a thorough examination of a particular and exceptional circumstance.
Despite being a significant underdog, Alekhine defeated Jose Raul Capablanca in 1927 to win the title of world champion (he had never won a single game against Capablanca before the match).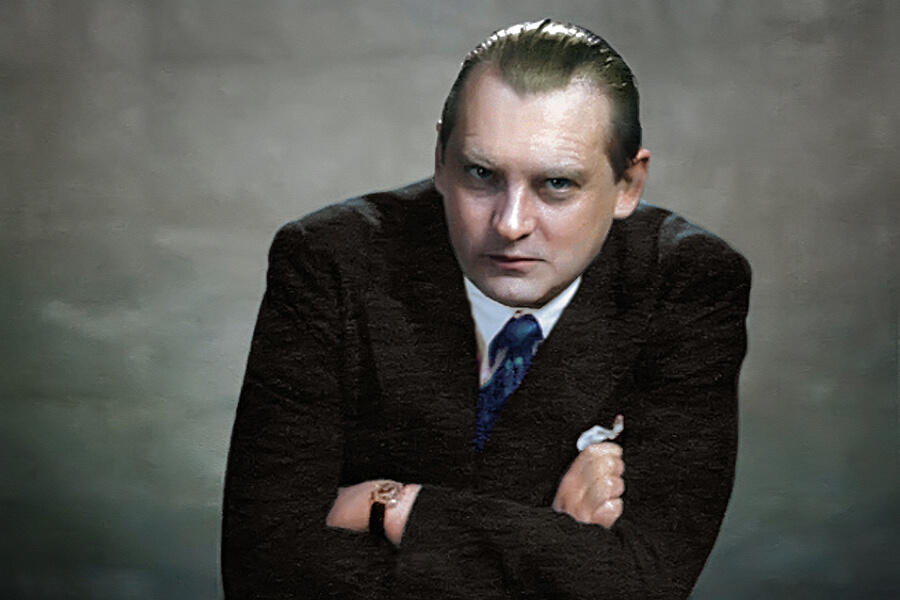 Despite having a lengthy term as world champion, Alekhine was only able to successfully defend his title twice (both times against GM Efim Bogoljubow in 1929 and 1934). Due to a variety of factors, Capablanca and Alekhine's world championship match was never repeated. In 1935, Alekhine competed against GM Max Euwe for the world title but unexpectedly lost the game.
Alekhine regained the championship by defeating Euwe in a rematch two years later, but he would never successfully defend it again. He was the first champion to ever die as the world champion when he passed away in 1946 (although he was finalizing the details to play a match with Botvinnik).
Best Chess Player #9 – Mikhail Tal
The eighth recognized world champion was GM Mikhail Tal, a.k.a. "The Magician from Riga." At the time, he was the youngest world champion in history after defeating Botvinnik in 1960 to win the title (although this record was broken by both Kasparov and Carlsen).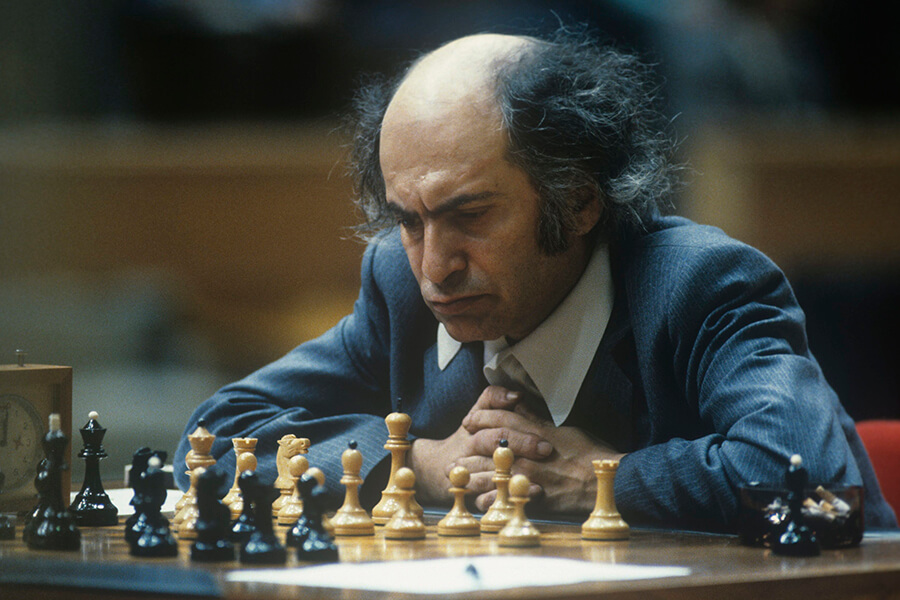 Tal has been an example to offensive players for years because of his superb and distinctive attacking style. "You must take your opponent into a deep dark jungle where 2+2=5, and the way going out is just wide enough for one," is one of his most terrifyingly renowned quotations.
Best Chess Player #8 – Emanuel Lasker
The title of second-placed official world champion was held for 27 years by Emanuel Lasker. The longest reign of any world chess champion, from 1894 to 1921, was enjoyed by him. His playing career spanned five decades. Lasker defeated the first recognized world champion Wilhelm Steinitz in 1894, and he successfully defended his title five times against a wide range of elite challengers, including Carl Schlechter, David Janowsky, Frank Marshall, and Siegbert Tarrasch.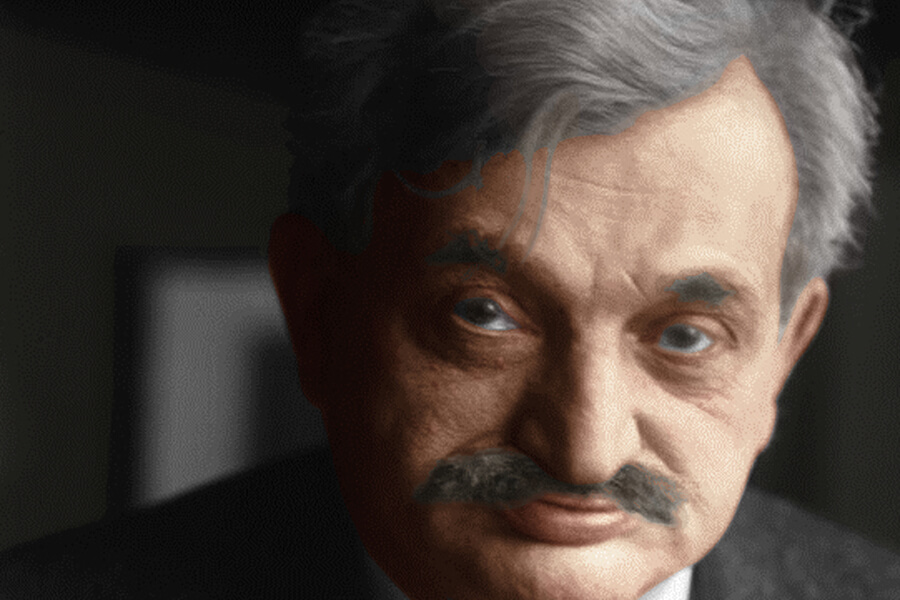 Despite losing the championship to Capablanca in 1921, Lasker persisted in playing at the top level. At the age of 66, he finished third in the Moscow tournament, ahead of Capablanca, the first woman to win the world championship Vera Menchik, and 15 other masters, but half a point behind Botvinnik and Salo Flohr.
Best Chess Player #7 – Vladimir Kramnik
From 2000 until 2007, GM Vladimir Kramnik won the global championship. He defeated the famous Kasparov in 2000 to become the classical world champion. He then successfully defended his title against GM Peter Leko in 2004 and challenged FIDE world champion Veselin Topalov in a title-unification match in 2006. After Kasparov in 1993, Kramnik defeated Topalov to claim the title of indisputable world champion.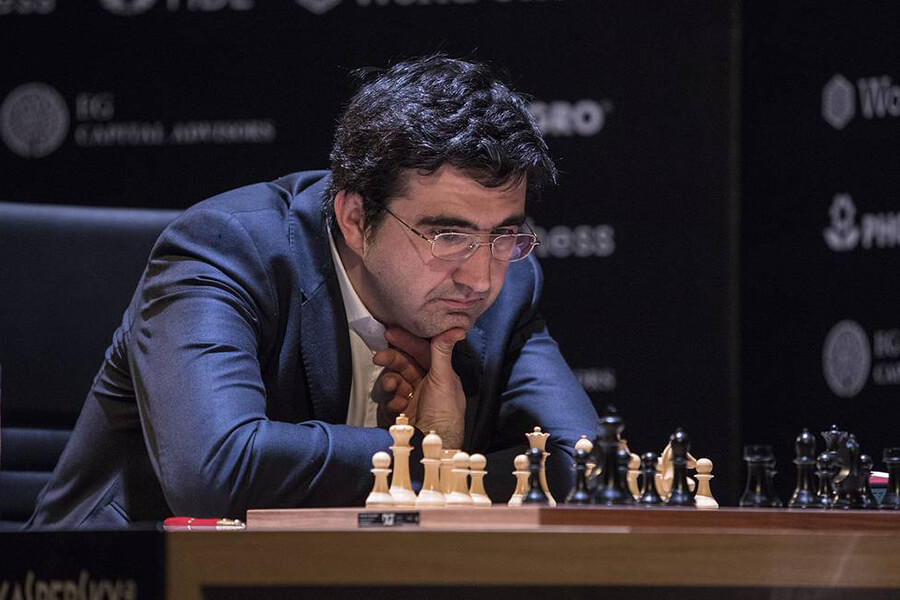 At his best, Kramnik was capable of doing it all, and his game had no weak areas. He was renowned for his outstanding endgame play as well as his positional, tenacious, and clean manner. One of the most challenging opponents to beat in the game's history is Kramnik.
Kramnik spent more than 25 years at the peak of his game until he retired in January 2019.
Best Chess Player #6 – Mikhail Botvinnik
The "father of the Soviet chess school" is GM Mikhail Botvinnik. The sixth world champion was a great player for more than 30 years and ruled from 1948 to 1963 (with two brief intermissions). Despite being a master at systematic and strategic planning, Botvinnik's approach was constrained by iron logic and flexibility. He was able to accommodate a wide range of playing styles because to his adaptable manner.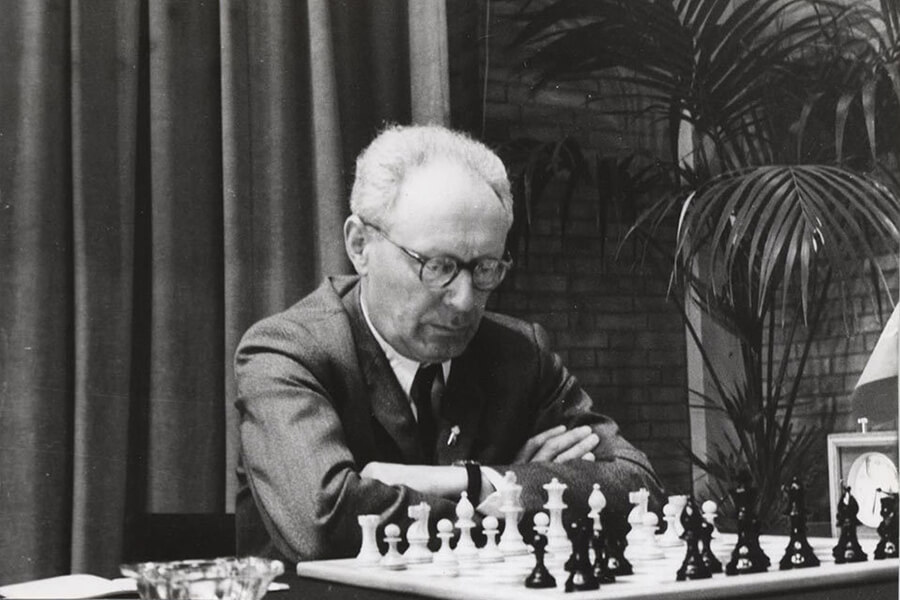 He won the title of world champion in 1948, successfully defended it in 1951 against GM David Bronstein, and triumphed against GM Vassily Smyslov in 1954. Smyslov upset Botvinnik in 1957, but Botvinnik prevailed in the rematch the following year (at that time the world champion had the right to a rematch if they lost the title). Tal beat Botvinnik in 1960, but history repeated itself as Botvinnik triumphed in their rematch the following year.
Petrosian ended Botvinnik's run as world champion in 1963, but he kept playing well all the way up until his retirement in 1970. In 1963, Botvinnik opened his chess academy, where he taught three future world champions (Karpov, Kasparov, and Kramnik).
Best Chess Player #5 – Anatoly Karpov
GM Anatoly Karpov, who also held the title of FIDE world champion from 1993 to 1999, was the 12th world champion and ruled from 1975 to 1985. Despite being a very well-rounded player, Karpov excelled in positional binds, prophylactic play, and superb endgame strategy.
When Fischer withdrew from their 1975 match because his requests weren't granted, Karpov automatically became the world champion. By beating GM Viktor Korchnoi in 1978 and again in 1981, Karpov successfully defended his throne. The chess world was permanently altered in 1984 when Karpov and Kasparov met for the first time.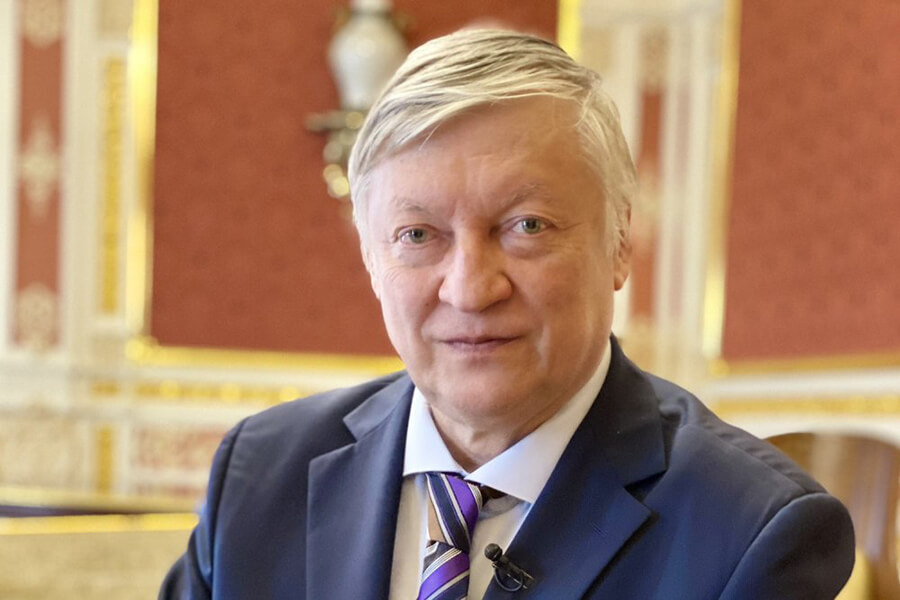 The first of the pair's five meetings was called early with Karpov leading with five victories, three defeats, and 40 draws. Kasparov defeated Karpov and won the chess championship in 1985. When their contests were through, Karpov had 19 victories, Kasparov had 21, and there had been 104 draws in their combined history of world championship matches. They rematched in 1986, 1987, and 1990.
Karpov became the FIDE world champion when Kasparov left FIDE in 1993 and founded the PCA. Karpov defeated GM Jan Timman in 1993, GM Gata Kamsky in 1996, and GM Anand in 1998 to retain his FIDE world championship crown (on tiebreaks). After FIDE revised its regulations, Karpov declined to participate in the 1999 FIDE world championship competition.
All positional and endgame players today still draw inspiration from Karpov's epic matches.
Best Chess Player #4 – Jose Raul Capablanca
The third recognized world champion and perhaps the most gifted chess player ever was Jose Raul Capablanca. He achieved a tournament record of 40 victories and 23 draws from 1916 to 1924, which was unique at the time and is still a noteworthy accomplishment in history. During his eight years, Capablanca's brilliance and technique were unsurpassed.
In 1921, Capablanca defeated the illustrious Lasker to win the title of world champion. Many think Capablanca would have defeated Lasker if given the opportunity before 1921, and many think he would have regained the title if given the chance to face Alekhine again. Unluckily for Capablanca, his prime playing years were between and during World Wars I and II.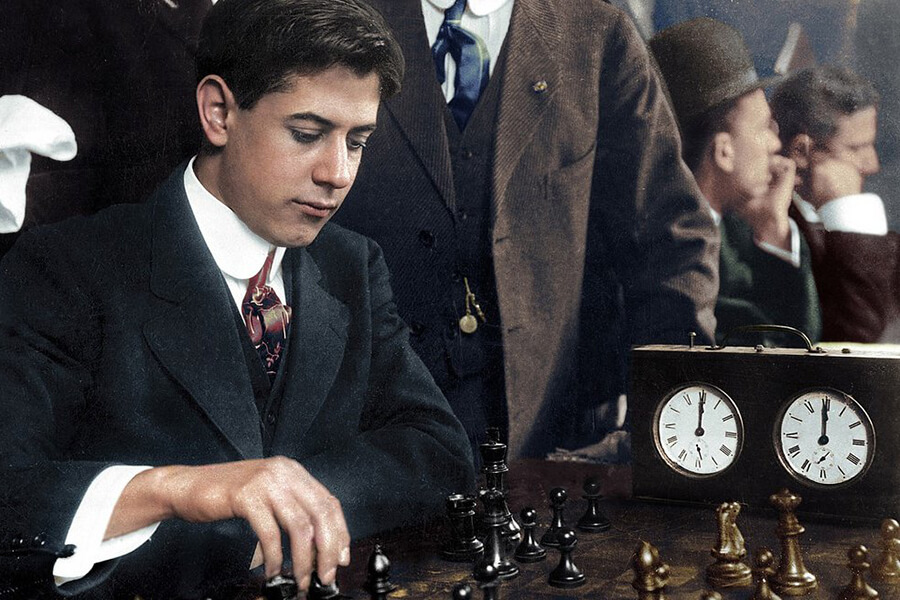 Every challenger and world champion is well-rounded, but Capablanca possessed a unique talent for the finish. It is hard to find flaws in his endgame strategy even in this day and age of chess engines.
Capablanca was the only player to win the world championship and go eight years without suffering a defeat in the game of chess.
Best Chess Player #3 – Bobby Fischer
GM Bobby Fischer was the first and only American to win the title of world champion, making him the 11th legitimate world champion. Many people believe that he is the most well-known chess player of all time. Fischer's feat of winning 20 straight games against elite competition from 1970 to 1971 is unparalleled and mind-boggling, and it is highly unlikely that it will ever be matched. This accomplishment is one of the top seven chess records ever.
Despite having a 0-2 lead after losing game one in a deadlocked endgame and skipping game two, Fischer overcame Spassky in the "Match of the Century" in 1972 and was declared the world champion. In the midst of the Cold War, from 1970 to 1972, Fischer dismantled the Soviet chess empire, which is regarded as one of the greatest individual performances ever.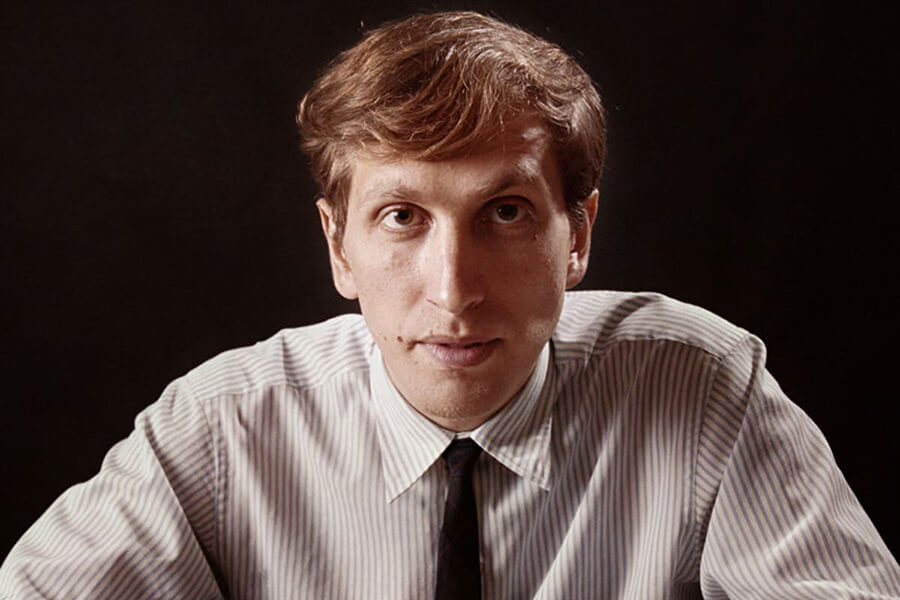 He had a distinct, distinctive, and imaginative style. He was a formidable attacker and defender, but he also had a profound, unnerving awareness of his position. Chess players in the United States and throughout the world have been influenced by Fischer for many generations.
Best Chess Player #2 – Magnus Carlsen
The current world champion for all three time controls is GM Magnus Carlsen (standard, rapid and blitz). In 2009, he became the player with the youngest rating ever to cross the 2800 mark, and on April 21, 2014, he attained his peak rating and all-time high rating of 2889.
Carlsen has dominated the game ever since he rose to the top of the rankings in 2011. Another world record for the champion, Carlsen had an unbeaten run of 120 games under conventional time restrictions as of February 2020.
Carlsen is only 29 years old and could not have even hit his playing peak at this point, but his résumé is already more than sufficient for him to be ranked number two on our list of the greatest players ever!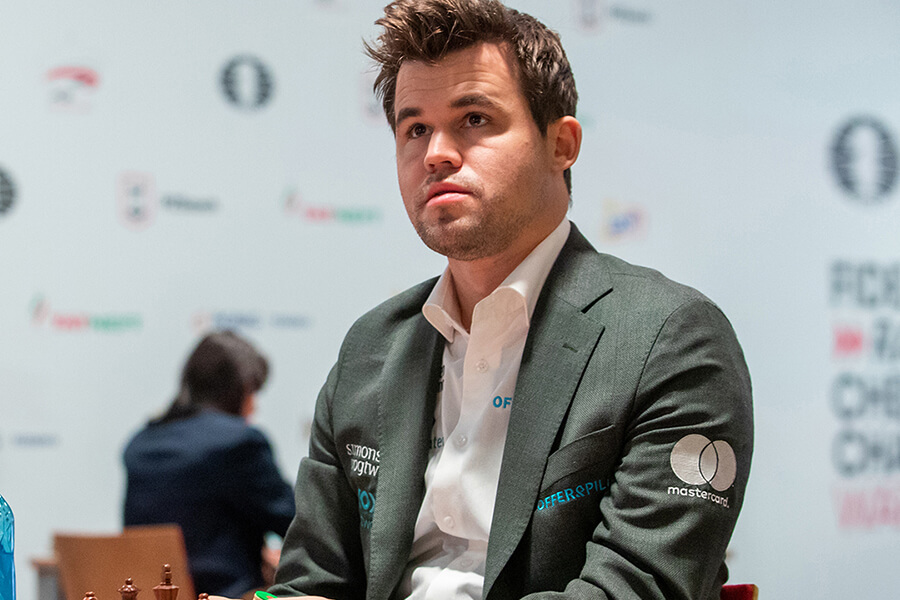 In 2013, shortly before becoming 23 years old, Carlsen defeated Anand to claim the title of world champion (the second-youngest world champion ever, behind only Kasparov). Three times, Carlsen has successfully defended his title: in 2014, he defeated Anand again; in 2016, he overcame GM Sergey Karjakin; and in 2018, he triumphed over GM Fabiano Caruana.
Carlsen disputes that he deserves to be ranked first on this list. Carlsen asserts the following in an interview from January 2020: "Kasparov held the top spot in the world for 20 consecutive years… He must be regarded as the greatest person in history. But I think I've got time on my side. I'm not yet 30. I would have had to start dominating at a young age if I wanted to be regarded as the greatest person in history by 30."
Best Chess Player #1 – Garry Kasparov
GM The title was held by Garry Kasparov, the 13th world champion, from 1985 until 2000. He attained the top spot for the first time in 1984, and, with a few minor deviations, he held it until 2006. For more than 20 years, Kasparov ruled the chess world.
On March 3, 2000, Kasparov earned his top rating of 2856, which was unmatched at the time and remained unsurpassed until Carlsen overcame it.
At the age of about 22 and a half, Kasparov defeated Karpov in 1985 to become the youngest world champion ever. In 1986, 1987, and 1990, he successfully defended his world championship title against Karpov on three separate occasions. He left FIDE in 1993 and founded the PCA; this split resulted in two distinct world championships until the match between Kramnik and Topalov for reunification in 2006.
In 1993, Kasparov defeated GM Nigel Short to successfully defend his title. In 1995, he defeated Anand to successfully defend his title once more. Only two world champions—Kasparov and Lasker—have successfully defended their championships five times.
When Kramnik defeated Kasparov in 2000, the greatest player in history lost his title. Up until his retirement from the game in 2005, Kasparov played in (and won) competitions, retiring as the top player in the world.
After effectively retiring, Kasparov has continued to play chess. In addition to coaching GM Hikaru Nakamura and Carlsen, he has participated in exhibition matches. One of the greatest chess books ever is his five-volume set My Great Predecessors.