About Our Large Ornamental Chess Pieces
Each piece creates a party of colors that is beautiful, luxurious, and extremely delicate.
These are chess pieces that artist Henry Le and his team spend a lot of time designing, calculating, and perfecting by Vietnamese top skilled artisans. Each of them is the pride of Henry Le and the one-of-a-kind work
The King, Queen, and Knight are used for Décor on cabinets, display shelves, pianos, desk corners, living room space decoration, wall decoration and can be meaningful gifts.
Super Chess Set: Queen – King – Knight Include:
3 Super Chess Pieces: Special King – Queen – Knight
2 years of insurance
Dimension of Chess pieces:
King's Height: 30cm (11.8 inches), Base's Width: 11.2cm (4.4 inches), Weight: 800g (1.76 lb)
Queen's Height: 29cm (11.4 inches), Base's Width: 11.2cm (4.4 inches), Weight: 900g (2 lbs)
Knight's Height: 21cm (8.26 inches), Base's Width: 10cm (3.93 inches), Weight: 600g (1.32 lb)
Materials: American Ash Wood, Padauk Wood, Colored Pencils, Epoxy Clear Resin, Copper
Note: The chess pieces are made of wood and hand-finished, so the weight and shape of each piece may not be 100% the same. In addition, the color of the chess pieces is also different and though it is made of the same wood, it may be uneven due to the natural wood color.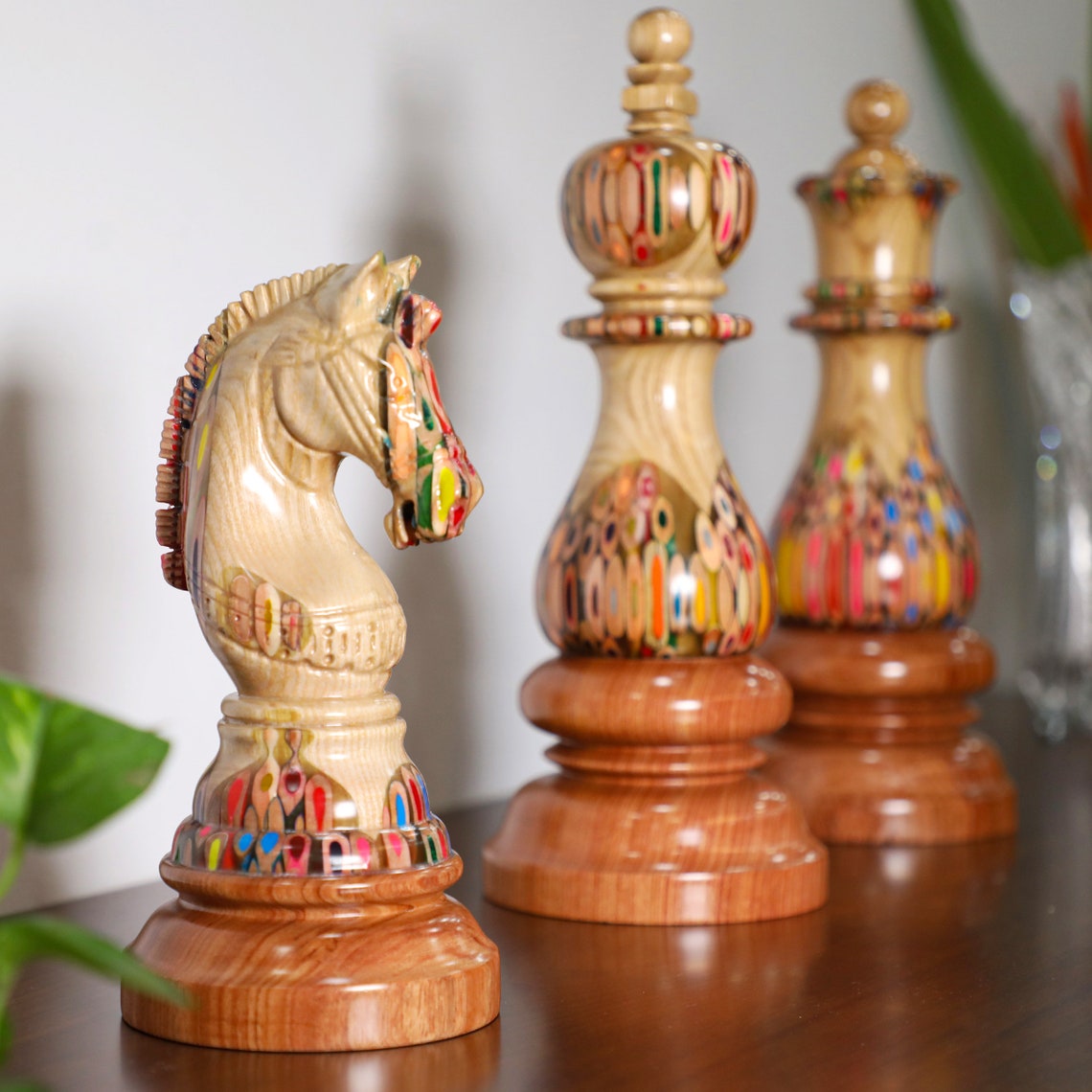 Colored-Pencil Large Ornamental Chess Pieces
If you're looking for a unique and eye-catching addition to your chess collection, consider investing in decorative giant chess pieces made from colored pencils. These oversized pieces add a playful twist to the classic game of chess, while also showcasing stunning artwork and design.
One of the standout features of our colored-pencil giant chess pieces is their vibrant and intricate coloring. Each piece is meticulously handcrafted and painted, using a range of color and shading techniques to create a stunning visual effect.
Whether you're playing with them or displaying them as a decorative item, these pieces are sure to turn heads and make a statement. Another advantage of colored-pencil giant chess pieces is their durability and quality. They are made from high-quality materials, ensuring that they will last for years to come, and can be used in creative ways.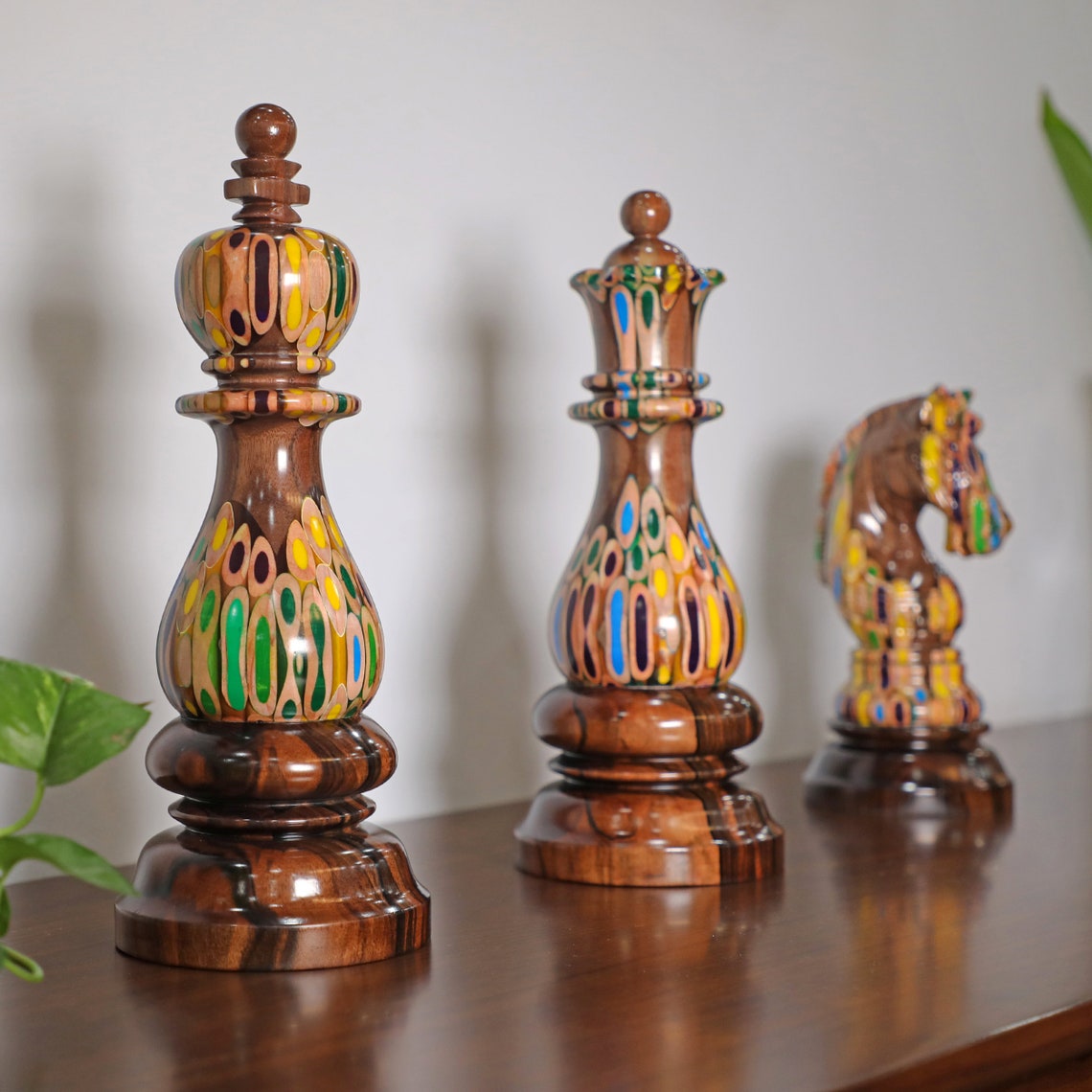 The combination of Large Ornamental Chess Pieces: King – Queen – Knight
The Giant King, Queen, and Knight Chess set not only includes some of the most important pieces on the board, but it also offers a unique and visually impressive experience for players of all skill levels. The size of the pieces alone can make the game feel larger than life, and the weight of the pieces can add a tactile element to the gameplay.
The King is the ultimate goal of the game, and it must be protected at all costs. As the most important piece on the board, losing the King can mean the end of the game. The Queen, on the other hand, is the most powerful piece on the board, with the ability to move in any direction and cover a large portion of the board.
In the hands of a skilled player, the Queen can be a formidable tool for attacking the opponent's pieces and gaining control of the board. The Knight is a unique piece that can jump over other pieces, making it an essential tool for attacking your opponent's pieces or blocking their moves.
Overall, the combination of the Giant King, Queen, and Knight Chess set offers a unique and exciting experience for players of all levels.
The size and weight of the pieces, combined with the importance of the King, the power of the Queen, and the unique moves of the Knight, can add a new level of challenge and excitement to the game of chess, as well as a unique combination of different these Giant Chess Pieces' roles and abilities.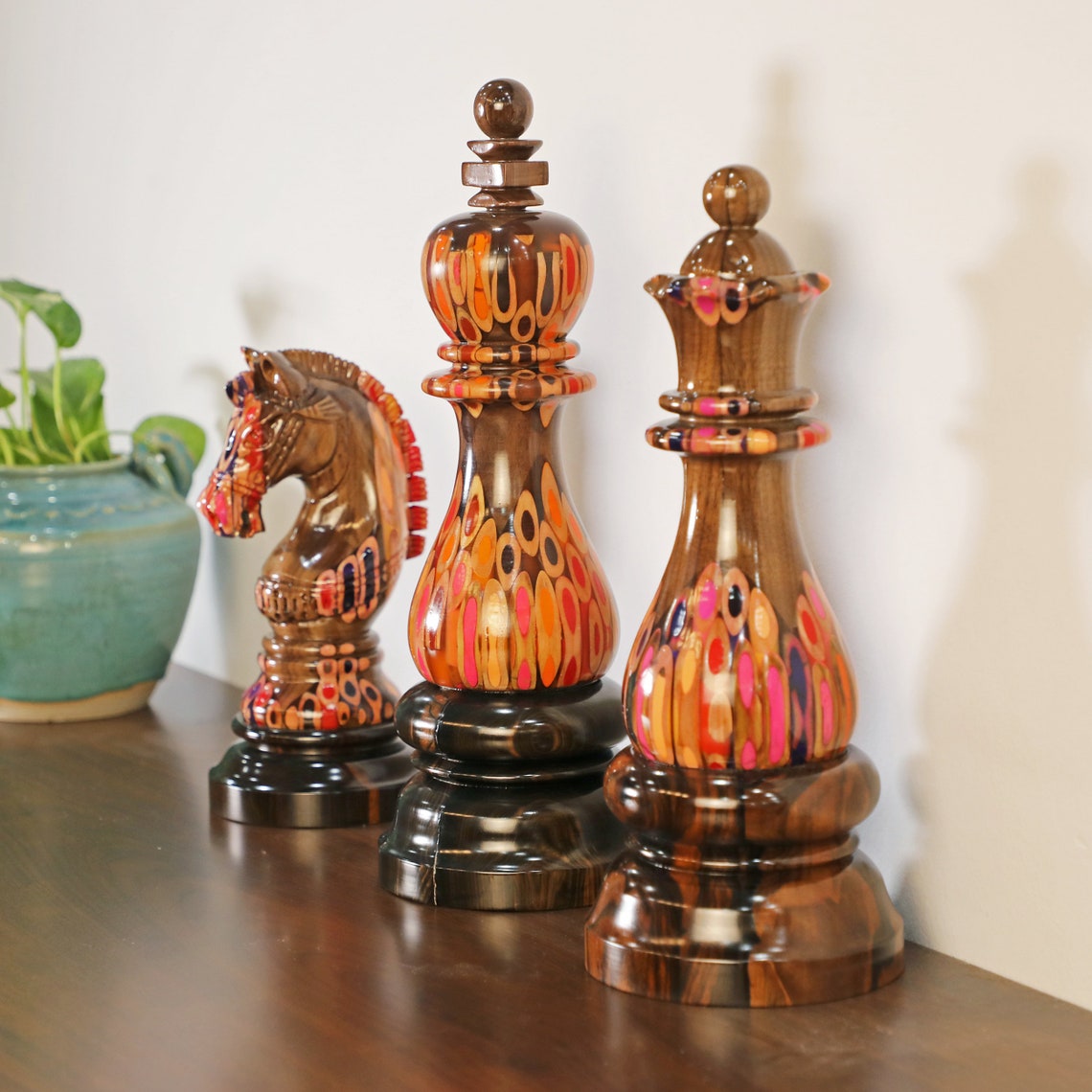 Maintenance Tips for Your Large Ornamental Chess Pieces
Giant ornamental chess pieces are a beautiful addition to any outdoor space, but like any outdoor decoration, they require proper maintenance to keep them looking their best. Here are some maintenance tips for your giant ornamental chess pieces:
Regular Cleaning: Regular cleaning is important to prevent dirt, dust, and debris from building up on your chess pieces. To clean, use a soft brush or cloth and mild detergent mixed with water. It is recommended to refrain from utilizing harsh cleaning solutions or rough brushes that can cause surface scratches.
Weather Protection: Giant ornamental chess pieces are typically made of durable materials, but exposure to harsh weather conditions can cause damage over time. Protect your chess pieces from the elements by storing them indoors during extreme weather conditions or by covering them with a weather-resistant cover.
Check for Damage: Regularly inspect your chess pieces for any signs of damage, such as cracks or chips. If you notice any damage, it's important to address it as soon as possible to prevent further damage.
Repairs: If your chess pieces do become damaged, it's important to have them repaired by a professional. Attempting to fix the damage yourself could cause further damage or compromise the structural integrity of the chess piece.
Storage: When not in use, store your chess pieces in a dry, secure location to prevent damage or theft. Make sure to properly wrap and pack each piece to prevent scratches or other damage during storage.
By following these maintenance tips, you can ensure that your giant ornamental chess pieces remain in good condition for years to come. A little bit of care and attention can go a long way in preserving the beauty and value of your investment.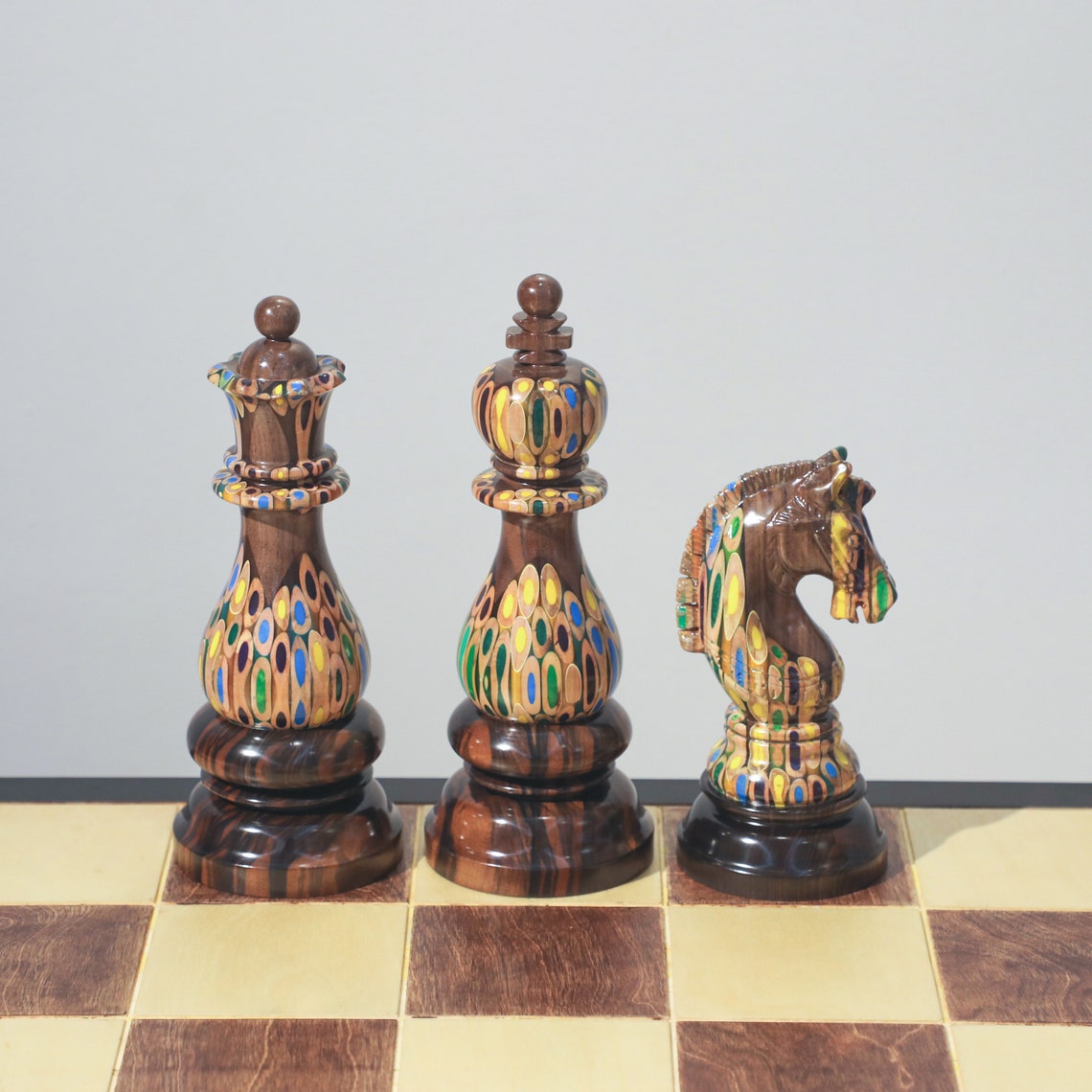 delu