History Of Giant Chess Pieces
Chess is a game with a fascinating history that spans centuries and has been embraced by cultures all around the world. It is a game of intelligence, strategy, and critical thinking, and has been played by many notable figures throughout history, such as Napoleon Bonaparte and Benjamin Franklin. With such a rich and storied past, chess appeals to a wide audience of individuals interested in the game for its cultural and intellectual value. Especially, the origins of large chess date back to ancient times when large stone chess pieces were used for outdoor games. The game became especially popular in medieval Europe, often used for entertainment during festivals and special events. In the 19th century, large chess sets were produced for parks and gardens, allowing anyone to play the game on a grand scale. The game even became more popular in the 20th century when large plastic and wooden toy sets were mass-produced for public use.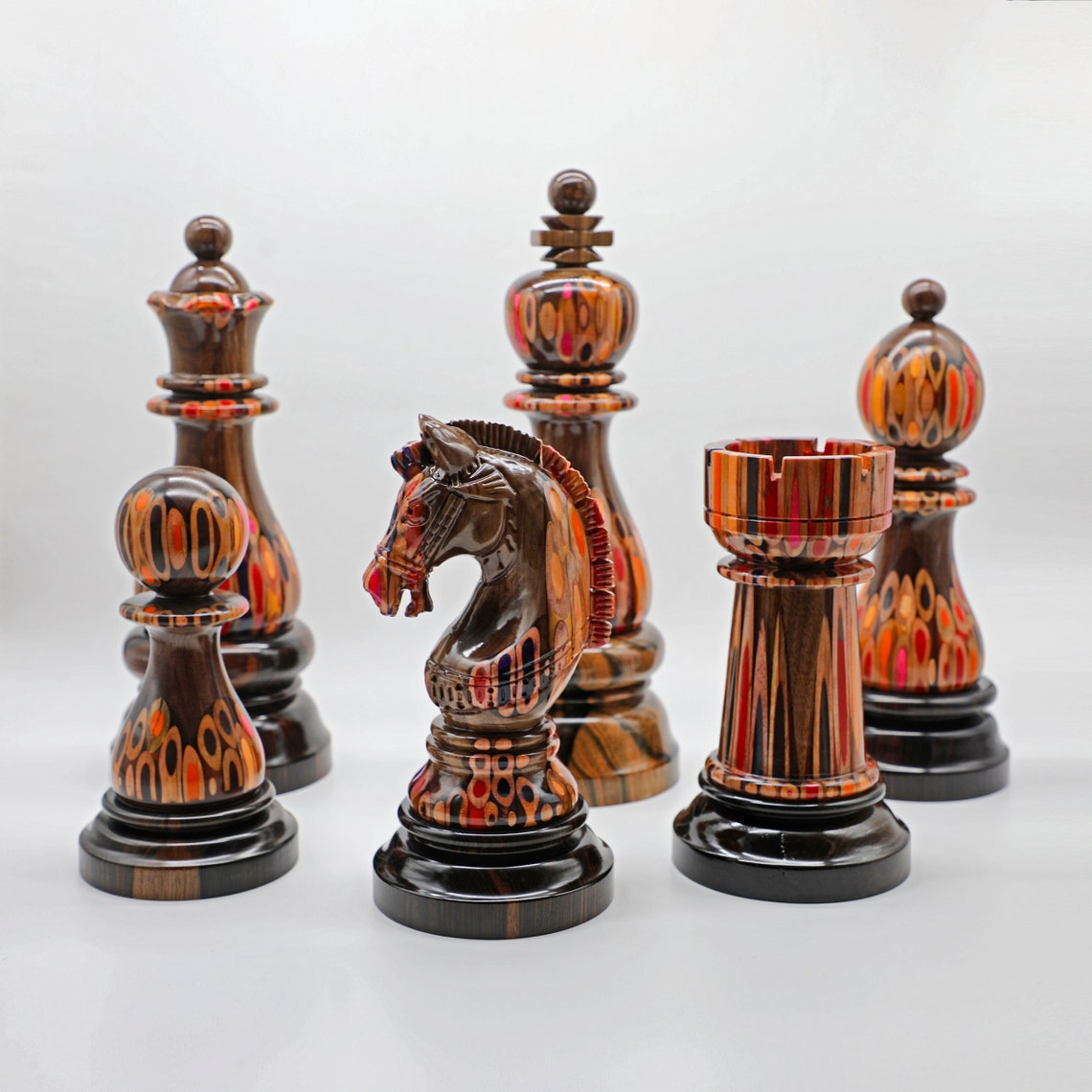 What are Giant Chess Pieces?
Giant chess pieces are oversized chess pieces, typically made from a variety of materials, including wood, plastic, and stone, and can range in size from just a few inches tall to several feet tall. In Henry Le Chess, our pieces are 4 times higher than the original height and range from 7 inches to 12 inches. Large chess pieces are a popular choice for outdoor events and public spaces, such as parks and recreation areas. They are often used as a form of entertainment and as a way to promote strategic thinking and problem-solving skills. One of the main advantages of giant chess pieces is that they can be used by people of all ages and skill levels. In addition to being used for outdoor play, they can also be used as decorative pieces in homes, offices, and other indoor spaces. These ornamental chess pieces provide a unique and challenging experience that is sure to delight and entertain players of all ages and skill levels.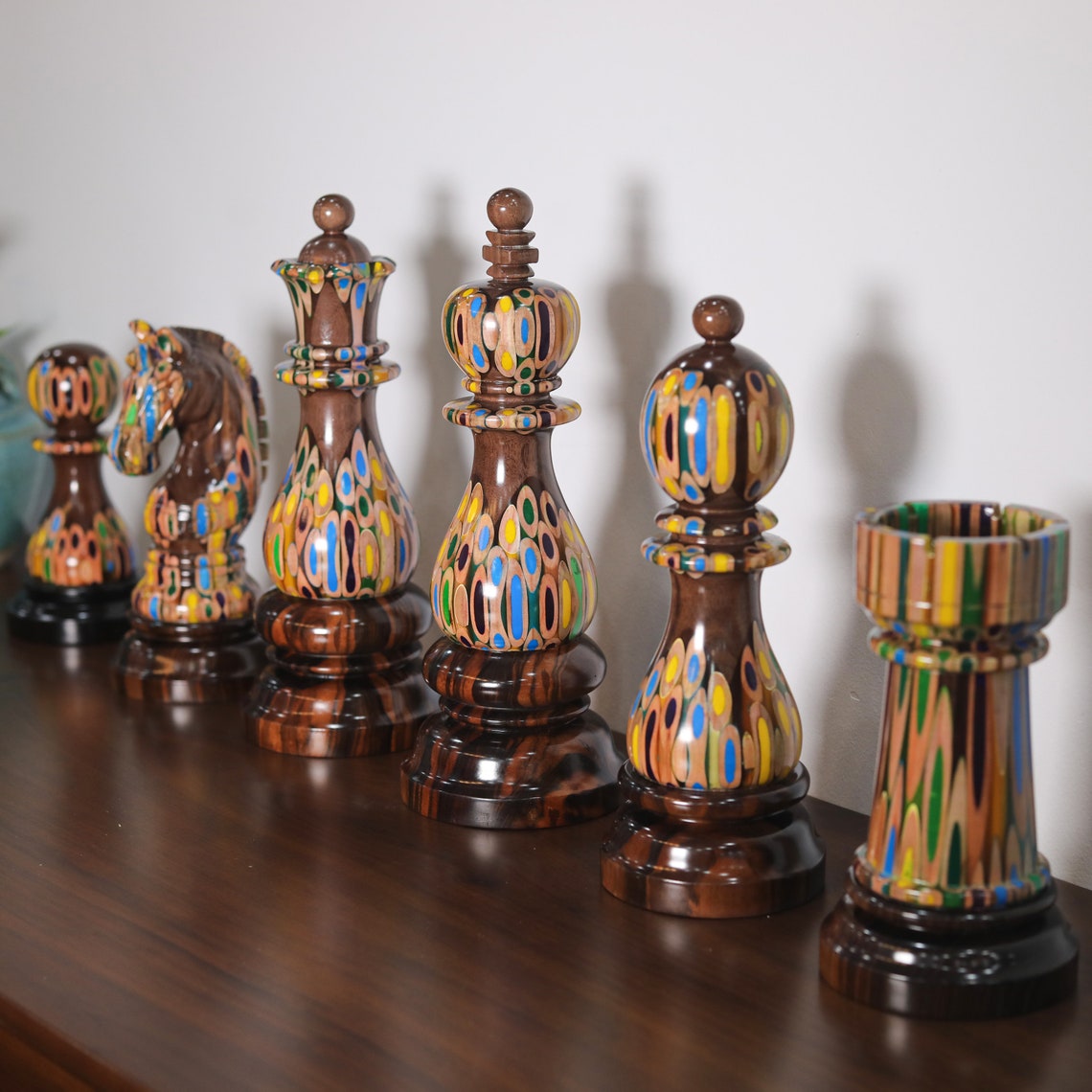 Colored-Pencils Giant Chess Pieces
Colored-pencil chess pieces are a creative and original variation of the classic game. Instead of conventional black and white pieces, players can opt for unique wooden pieces made with colored pencils and epoxy resin. The pencils used can be brightly colored and bold or have a more understated and subdued appearance, providing players with an opportunity to express their personal style and taste. These pieces can enhance the enjoyment of the game by appealing to the aesthetic preferences of art and craft enthusiasts.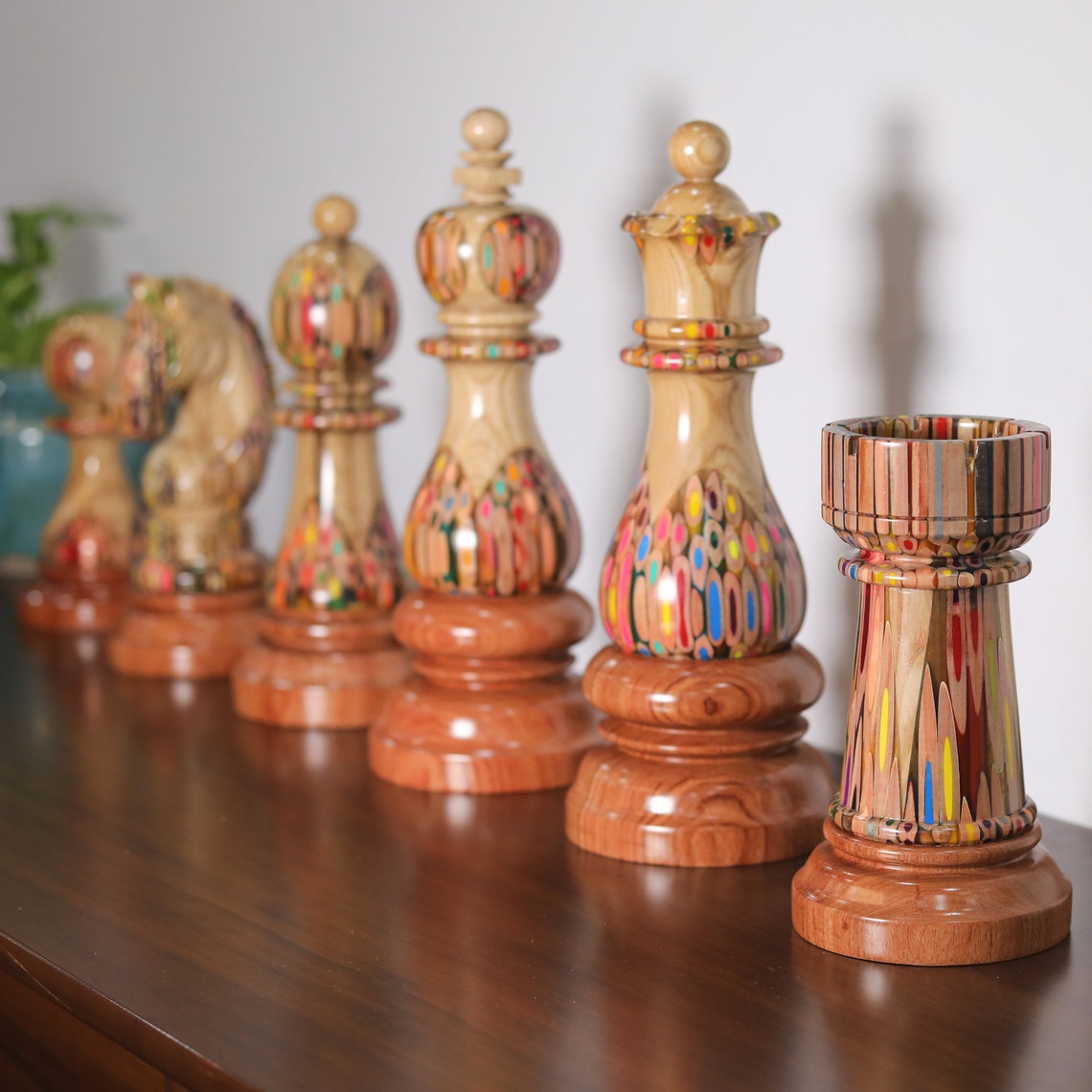 Set 6 Giant Chess Pieces
Our decorative chess set is not only functional for gameplay but also offers a unique style and color that makes it a beautiful addition to any home or office display. Some sets even come with their own display case, providing an extra touch of sophistication and elegance. These ornamental  pieces are sure to attract anyone with an appreciation for the aesthetic beauty of chess. They add artistry and flair to any space and make for a great conversation starter. Regardless of whether one is a professional chess player or simply an admirer of the timeless appeal of the game, our decorative chess sets are true statement pieces.