About Our Giant Chess Pieces For Decoration
Each piece is a perfect combination of light and red kinds of wood, clear epoxy resin. It is delicately, beautifully handcrafted and designed, and perfected down to the smallest detail.
These pieces are not just for décor. They are works of art and the perfect melting pot of artist Henry Le's passionate creativity in designing, prototyping. All of them are turned and finished manually by the leading artisans in Vietnam.
The 6 Super Deluxe Chess Pieces are used for Décor on cabinets, display shelves, pianos, desk corners, living room space decoration, wall decoration and can be meaningful gifts.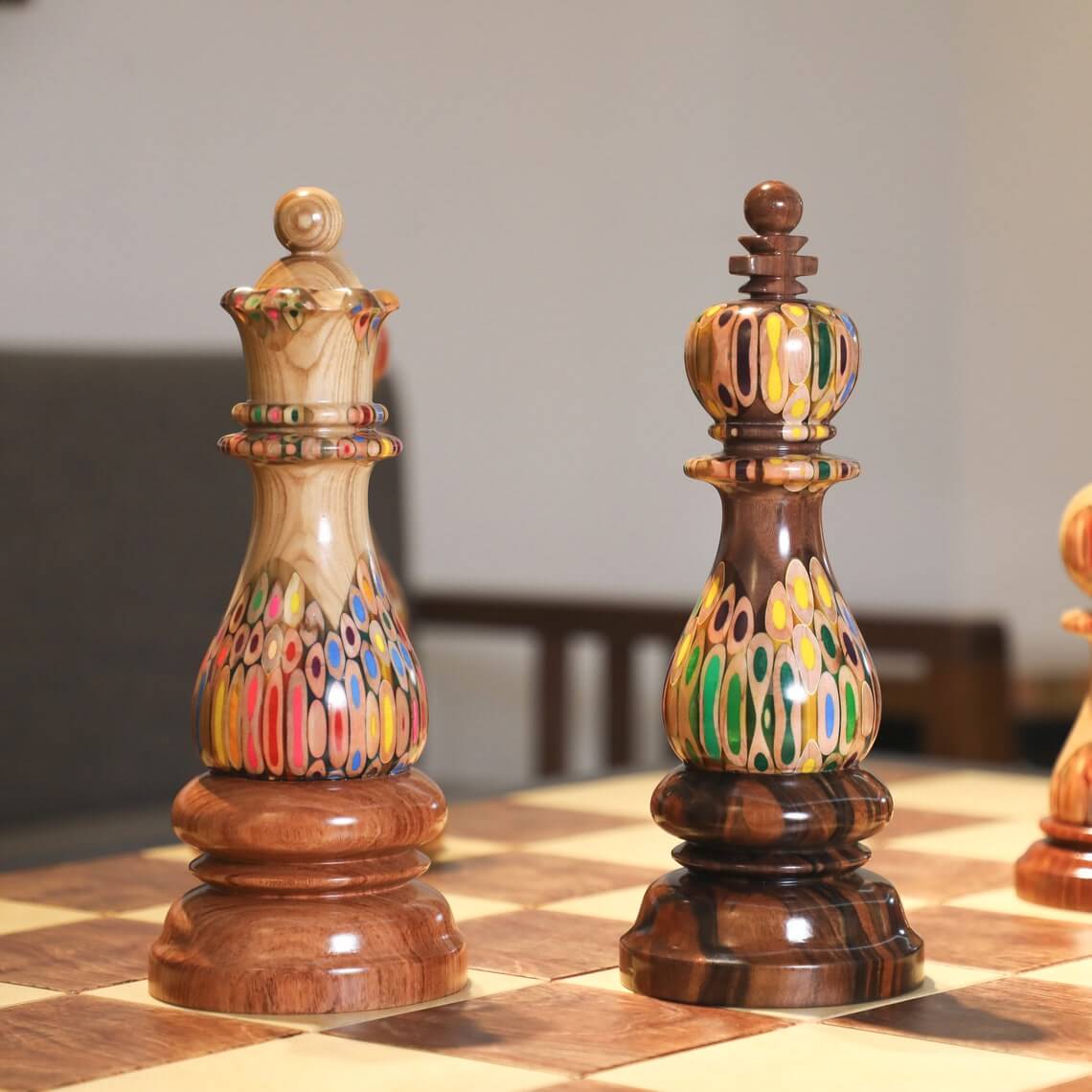 The 6 Super Deluxe Chess Pieces Include:
6 Super Chess Pieces: the special King, Queen, Bishop, Rook, Knight, and Pawn
2 years of insurance
Material: American Ash Wood, Colored Pencils, Padauk Wood, Epoxy Clear Resin, Copper
Note: The chess pieces are made of wood and hand-finished, so the weight and shape of each piece may not be 100% the same. In addition, the color of the chess pieces is also different and though it is made of the same wood, it may be uneven due to the natural wood color.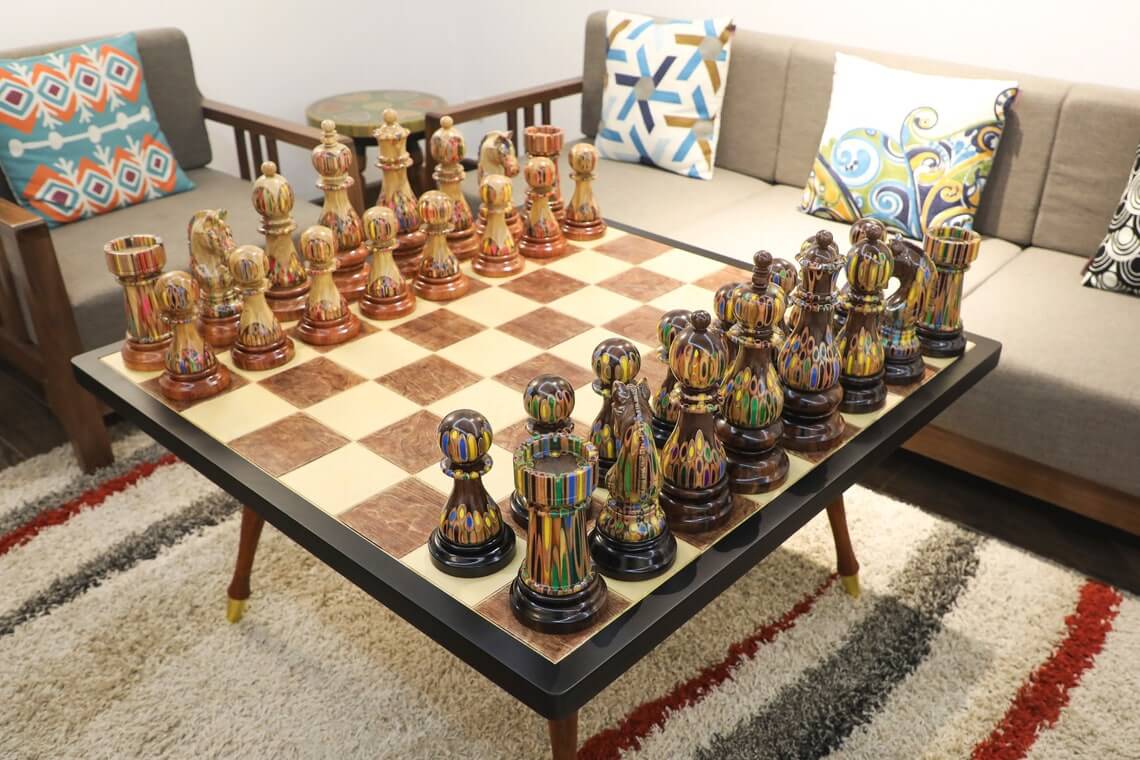 Different Types of Giant Chess Pieces
Large King Chess Piece
King's Height: 30cm (11.8 inches)
Base's Width: 11.2cm (4.4 inches)
Weight: 800g (1.76 lb)
The large king chess piece is a commanding presence on any chessboard, standing at the forefront of the battle between two opposing sides. Whether used for decorative purposes or in actual gameplay, the large king chess piece is a staple of the chess world, and its presence evokes a sense of regal power and strategic importance.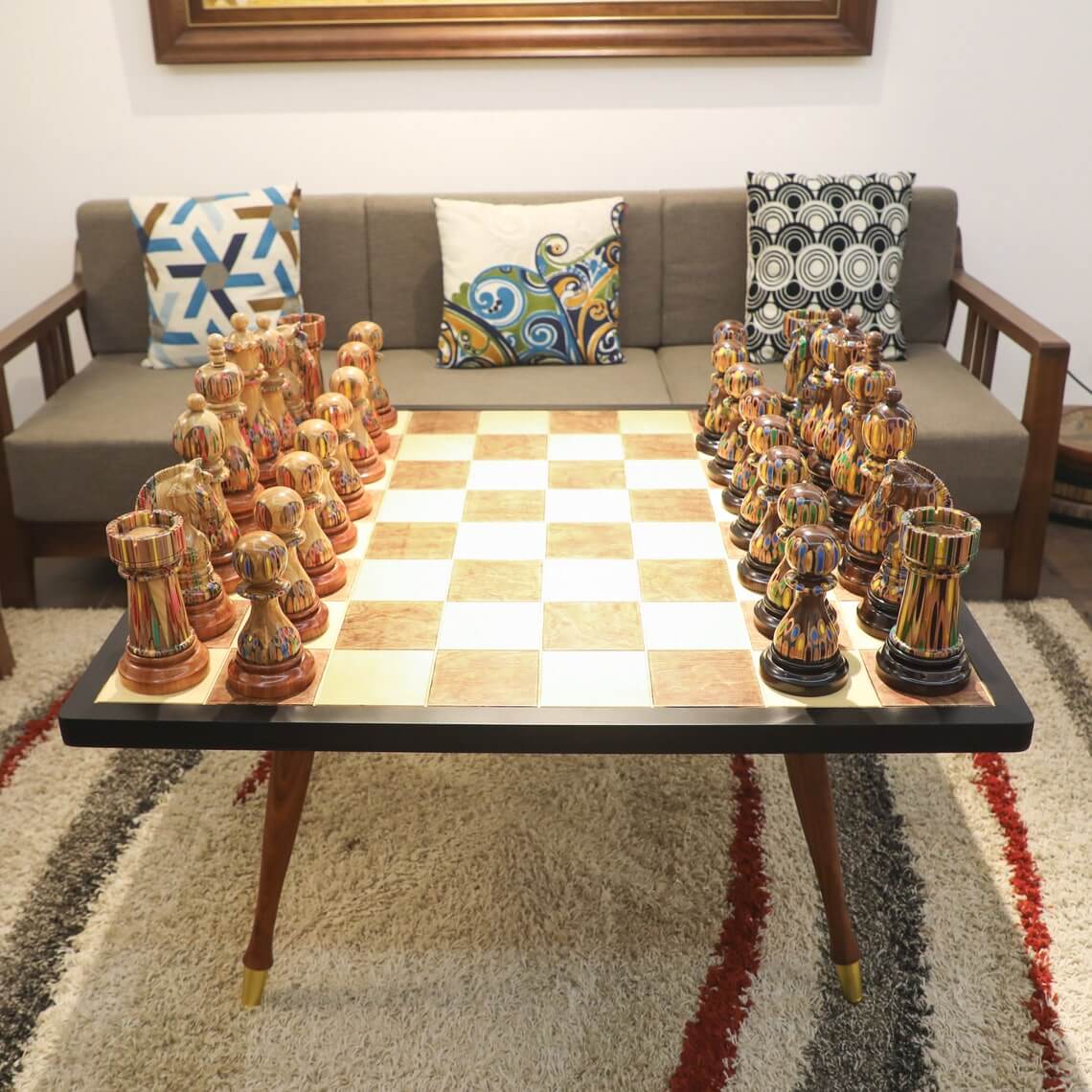 Large Queen Chess Piece
Queen's Height: 29cm (11.4 inches)
Base's Width: 11.2cm (4.4 inches)
Weight: 900g (2 lbs)
The queen is often considered the most powerful and versatile piece on the chessboard. In large chess sets, it is even more impressive due to its size and grandeur. Large queen chess pieces are often paired with large king pieces to create a stunning display of power and grace.
The large queen piece is not only a stunning addition to any large chess set but also serves as a reminder of the important role that women have played in the history of chess. The queen piece was not always as powerful as it is today, and it wasn't until the 15th century that the queen was given its current range of movement and became the powerful piece it is today.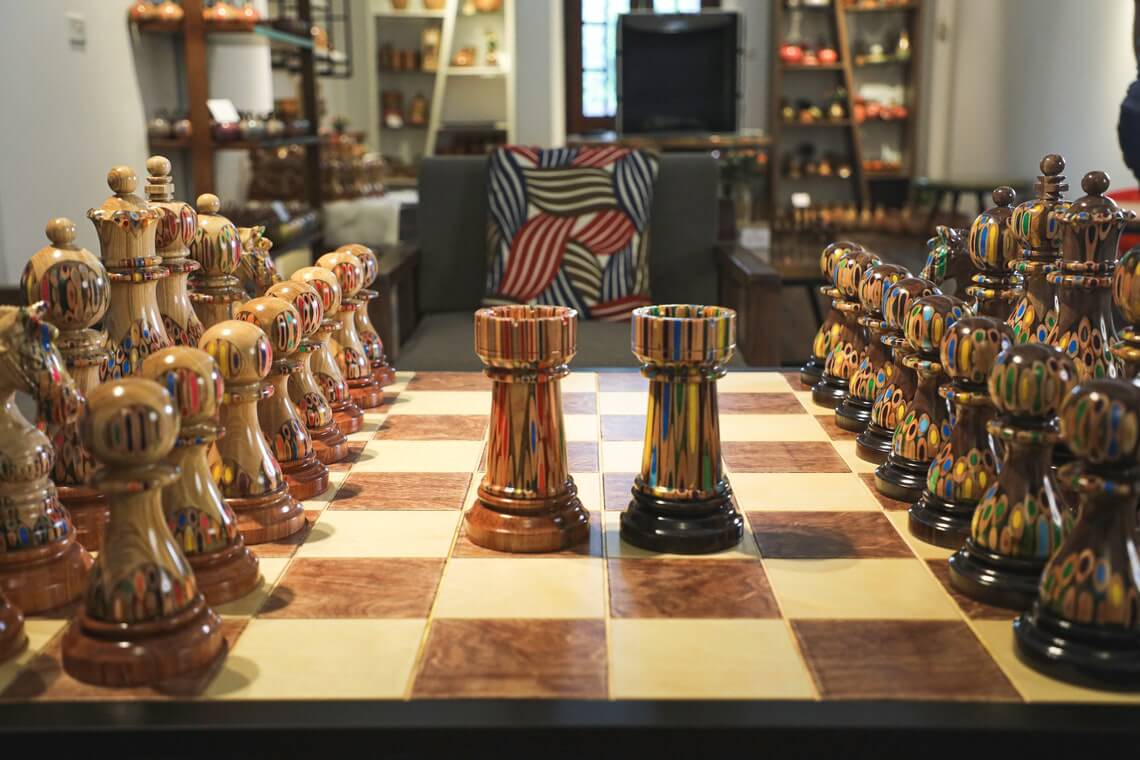 Large Knight Chess Piece
Knight's Height: 21cm (8.26 inches)
Base's Width: 10cm (3.93 inches)
Weight: 600g (1.32 lb)
The knight is one of the most unique and recognizable chess pieces, and when it comes to a large-scale version of this iconic figure, the impact is even greater. The large knight chess piece, with its distinctive horse-shaped head and curved sword, is often considered the most aesthetically pleasing piece on the board. Its L-shaped movement pattern makes it a challenging and strategic piece to use in gameplay.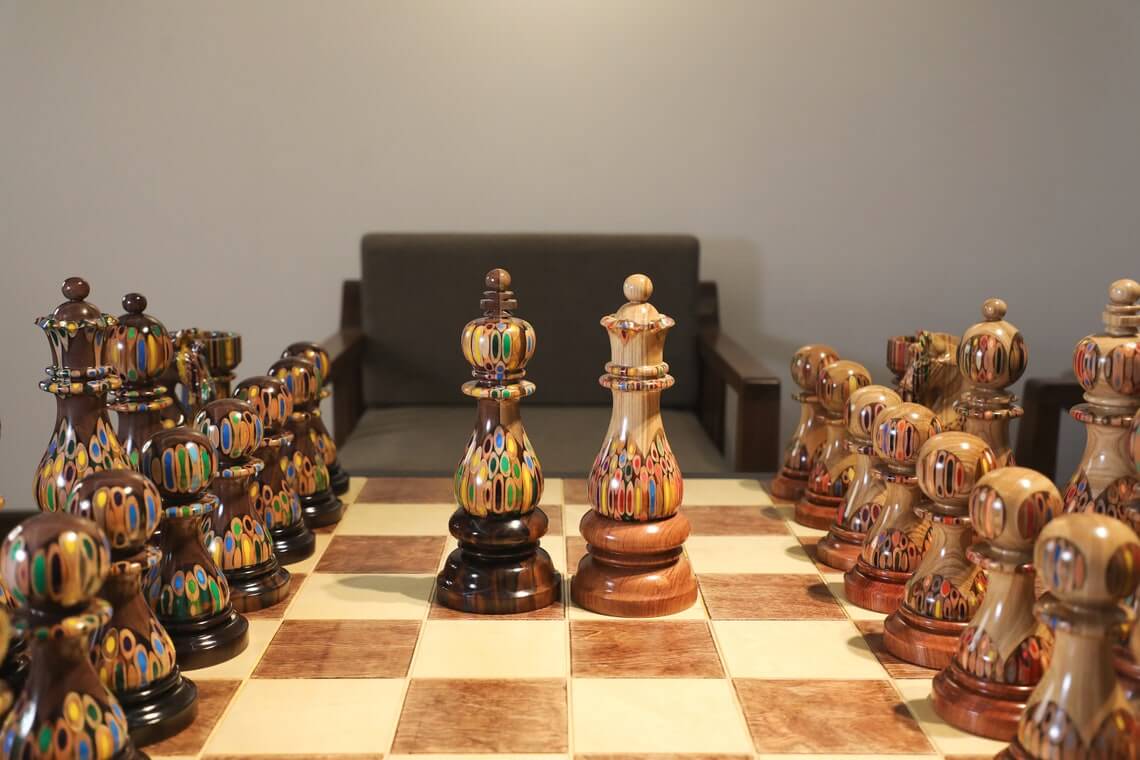 Large Rook Chess Piece
Rook's Height: 18cm (7.1 inches)
Base's Width: 10cm (4 inches)
Weight: 700g (1.54 lb)
The rook, also known as the castle, is a powerful chess piece that plays a critical role in the game. In the game of chess, the rook is represented by a tall, rectangular piece that is usually made of wood or other sturdy materials. The rook's movement is unique, as it can move any number of squares horizontally or vertically in a straight line.
This makes the rook a valuable piece for controlling open files and ranks and attacking the opponent's pieces. In addition to its strategic value in the game, this giant piece also has a strong aesthetic appeal. Its sleek, geometric design is often used in modern art and design, and large rook chess pieces can add a bold and striking element to any outdoor or indoor space.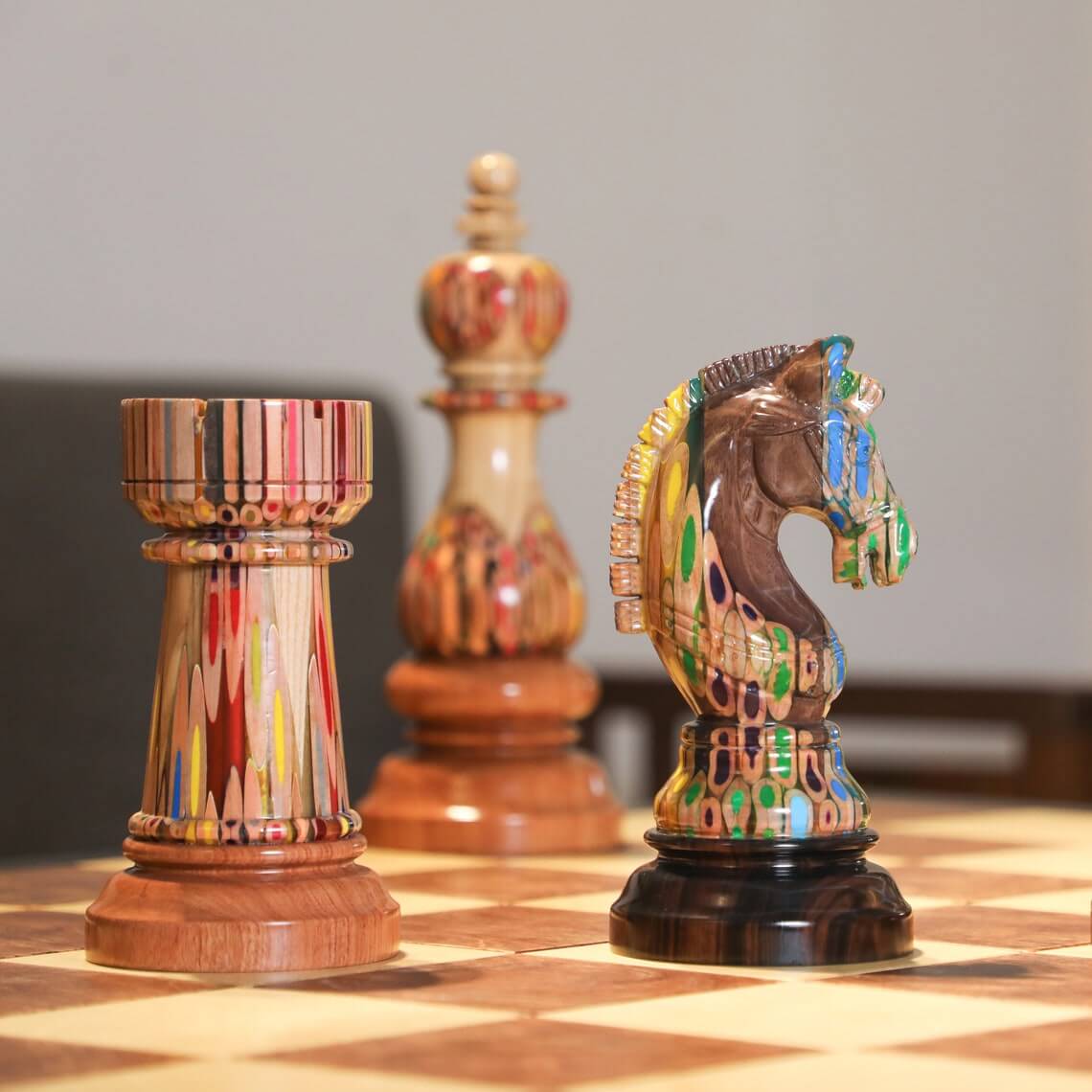 Large Bishop Chess Piece
Bishop's Height: 25.5cm (10 inches)
Base's Width: 10.5cm (4.1 inches)
Weight: 650g (1.43 lb)
The bishop is a powerful and important chess piece that moves diagonally on the board. In the game of chess, each player starts with two bishops, one on a light-colored square and one on a dark-colored square. The bishop is often seen as a symbol of the church, as it moves in a manner similar to the way bishops move diagonally on a chessboard.
In a large chess set, a large bishop piece can be especially impressive due to its height and intricate design, adding a touch of elegance and sophistication to a game, as well as making an impressive decorative piece in its own right. Playing with these giant chess pieces can also add a unique and enjoyable element to the game of chess.
Large Pawn Chess Piece
Pawn's Height: 17.5cm (6.9 inches)
Base's Width: 9.5cm (3.7 inches)
Weight: 400g (0.9 lb)
The pawn may be the smallest piece on the chessboard, but it plays a significant role in the game. In large chess sets, the pawn can be just as impressive as the larger pieces. Large pawn chess pieces are often crafted with intricate designs and details that add to their visual appeal.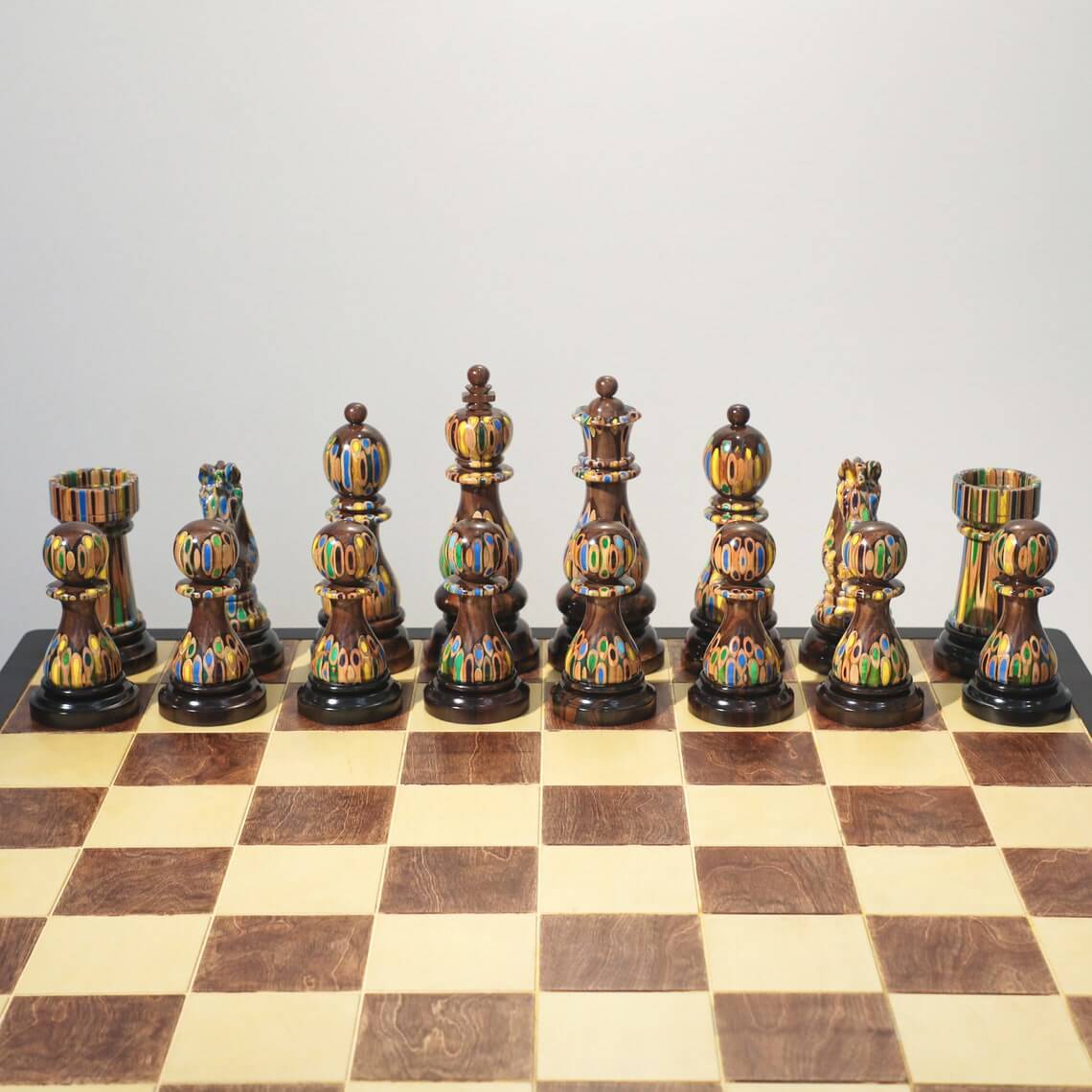 Unique Colored-Pencil Giant Chess Pieces
Colored-pencil giant chess is a unique and innovative twist on traditional chess sets. Instead of using standard black and white pieces, the players can choose unique pieces made from wooden, colored pencils, and epoxy resin.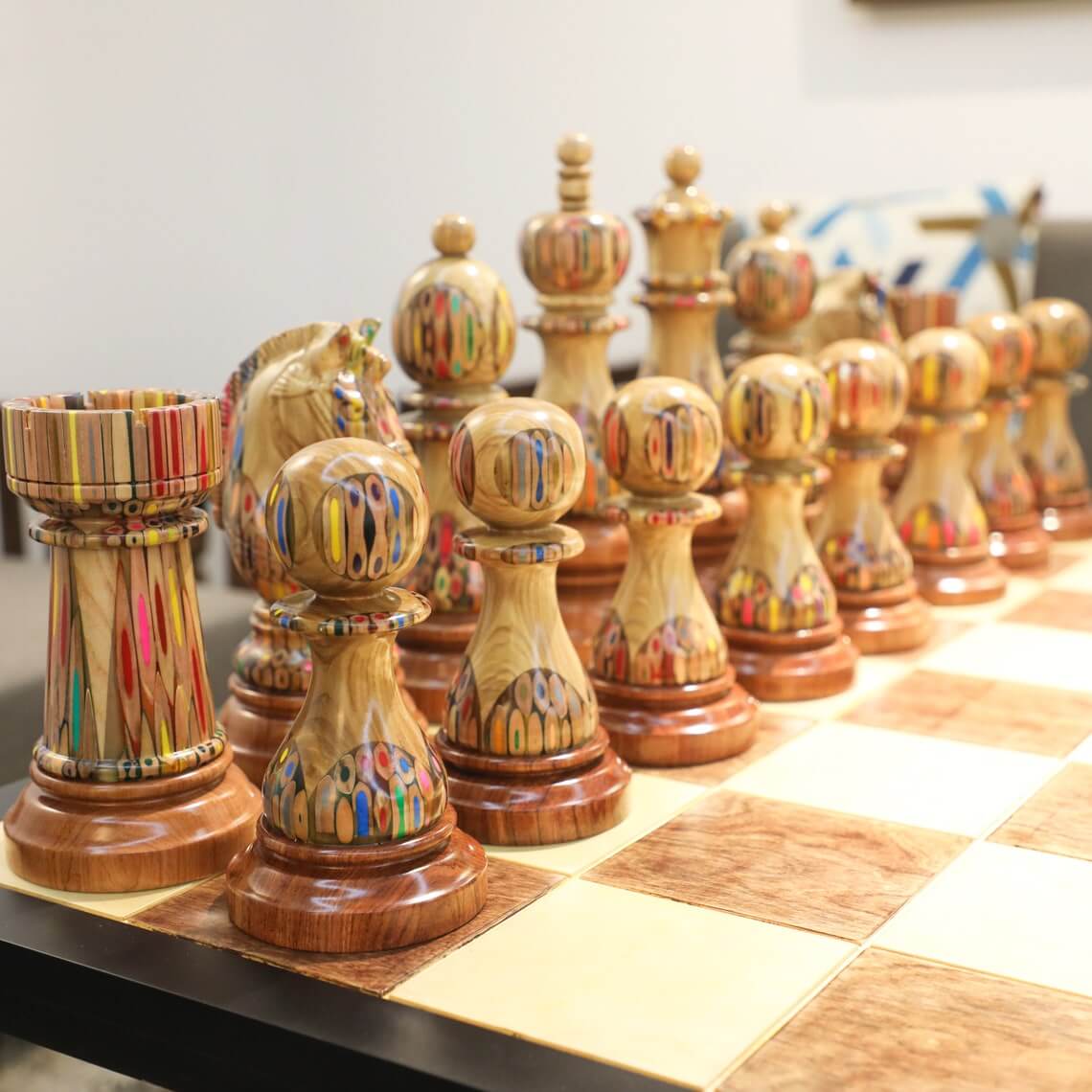 Preserving Giant Chess Pieces
Preserving giant chess pieces is important to ensure their longevity and prevent damage or wear and tear. Here are some tips on how to properly preserve giant chess pieces:
Keep them in a dry and cool place: It is important to store giant chess pieces in a dry and cool place to prevent moisture damage or warping
Avoid direct sunlight: Exposure to direct sunlight can cause the colors to fade and the materials to become brittle over time. It is best to keep them in a shaded area or indoors.
Clean them regularly: To keep the chess pieces looking their best, clean them regularly with a soft cloth and mild soap and water, avoid harsh chemicals and abrasive materials.
Handle with care: When moving or transporting the giant chess pieces, handle them with care to avoid dropping or damaging them.
Use covers: If you plan to store the chess pieces for a long period of time, consider using covers or protective sleeves to prevent dust or scratches.