The marriage of fine wood and colored pencils in the creation of a Queen chess piece is a captivating fusion that brings together the elegance of traditional craftsmanship with the vibrant allure of artistic expression.
This unique combination results in a chess piece that transcends its functional role, becoming a symbol of creativity and strategic prowess.
Queen Chess Piece Decor – Craftsmanship Meets Creativity
The wooden Queen chess piece is a testament to the skill and artistry of master craftsmen. Carved from a carefully chosen piece of wood, it embodies the rich heritage of woodworking traditions.
Every curve, every line, and every delicate detail is meticulously shaped by hand, reflecting a dedication to precision and a commitment to excellence. The choice of wood, whether it be the warm tones of mahogany, the intricate grains of walnut, or the light elegance of maple, adds depth and character to the piece.
The result is a Queen that exudes a sense of timeless beauty and sophistication.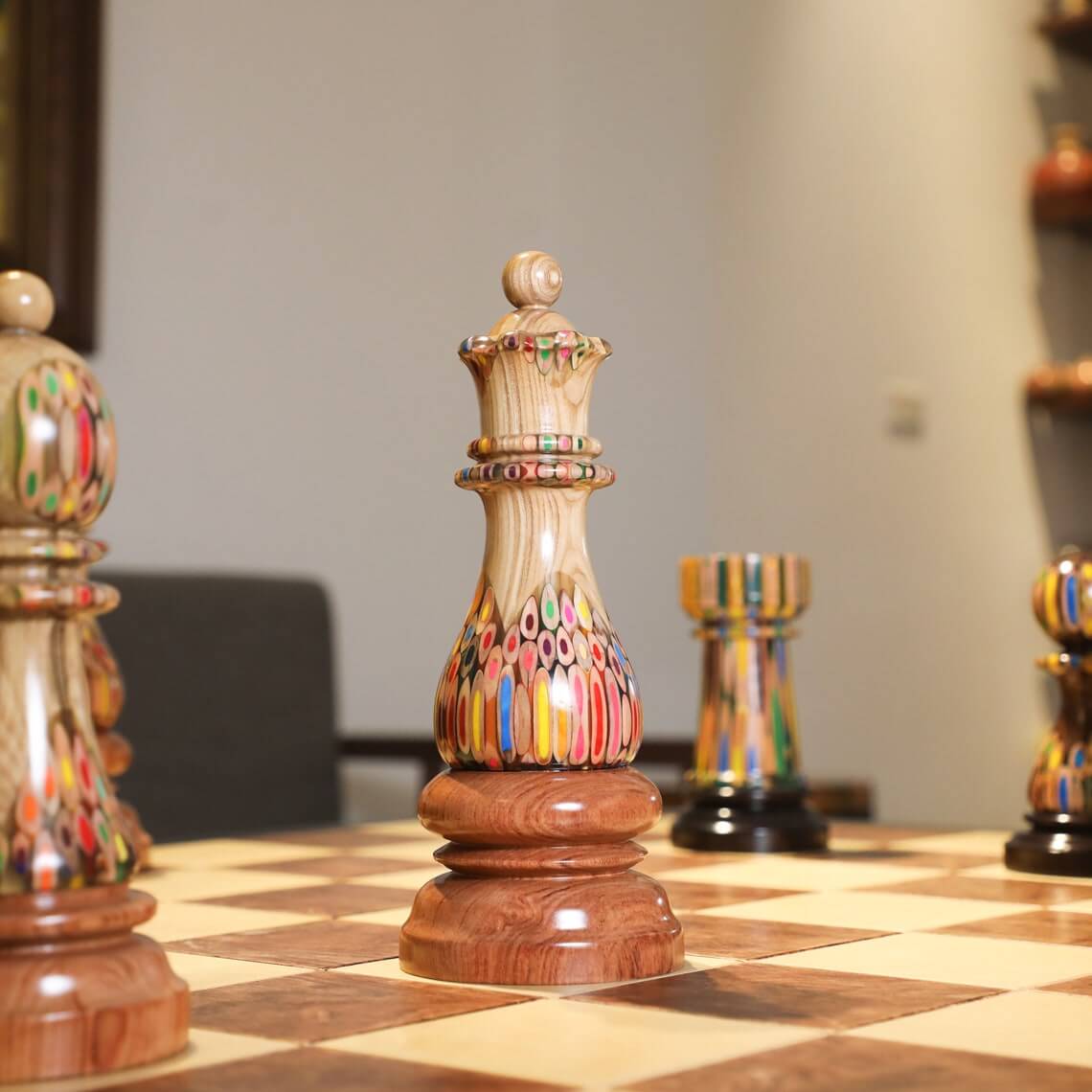 The Enchantment of Colored Pencils in Queen Chess Piece Decor
Introducing colored pencils into the equation adds a layer of enchantment that transforms the Queen into a work of art. Each colored pencil is selected with care, chosen for its ability to harmonize with the wooden canvas. With the delicate application of colored pencil strokes, the Queen's form takes on a new dimension.
Her regal attire, her crown, and her intricate embellishments come to life with a burst of color that elevates her presence on the chessboard. The colors chosen might be bold and striking, evoking a sense of power and majesty, or they might be soft and muted, radiating an air of subtlety and grace.
This interplay of color and form results in a Queen that is not just a piece for play, but a piece for contemplation, admiration, and inspiration.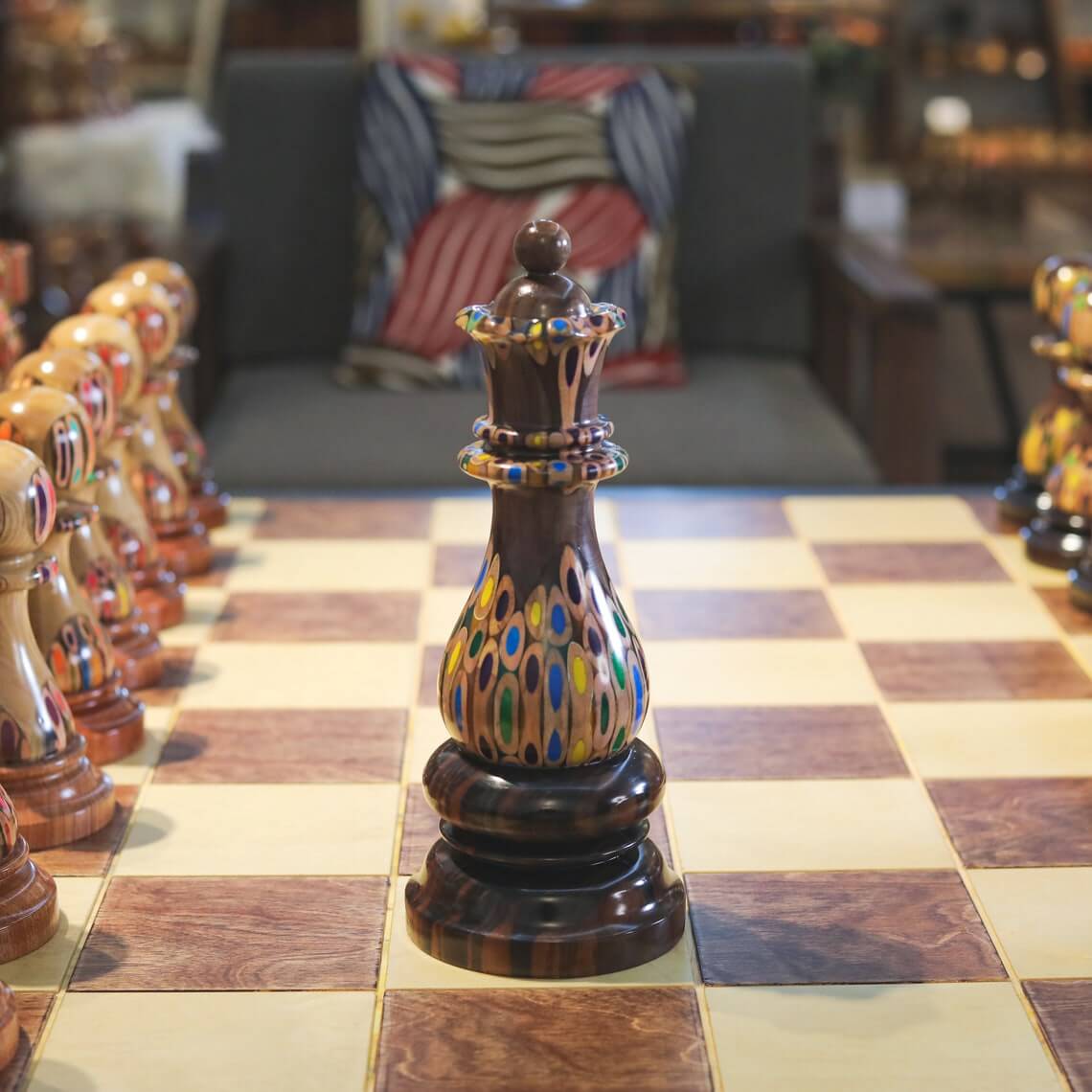 A Symbol of Strategy and Artistry in Queen Chess Piece Decor
In the world of chess, the Queen is a formidable force, capable of traversing the board with grace and authority. Her movements are strategic, her presence commanding. When the Queen is crafted from wood and adorned with colored pencils, she takes on an additional layer of symbolism.
She becomes a dual embodiment of strategic acumen and artistic flair, representing the melding of two distinct realms of human endeavor. Her role on the chessboard is not just about conquering opponents but about inspiring creativity.
With every move, players engage in a dance of intellect and imagination, their decisions driven not only by tactical considerations but also by the artistic narrative they wish to weave.
Beyond its role in the game, the wooden Queen chess piece adorned with colored pencils becomes a captivating conversation piece. It invites onlookers to pause and admire the intricate details, to appreciate the fusion of materials and techniques that have brought it to life.
It sparks discussions about the intersections of art and strategy, of tradition and innovation. Displayed on a mantle, a bookshelf, or a gaming table, the Queen becomes a statement of appreciation for the finer things in life – the melding of skill and imagination, the pursuit of excellence, and the celebration of creativity.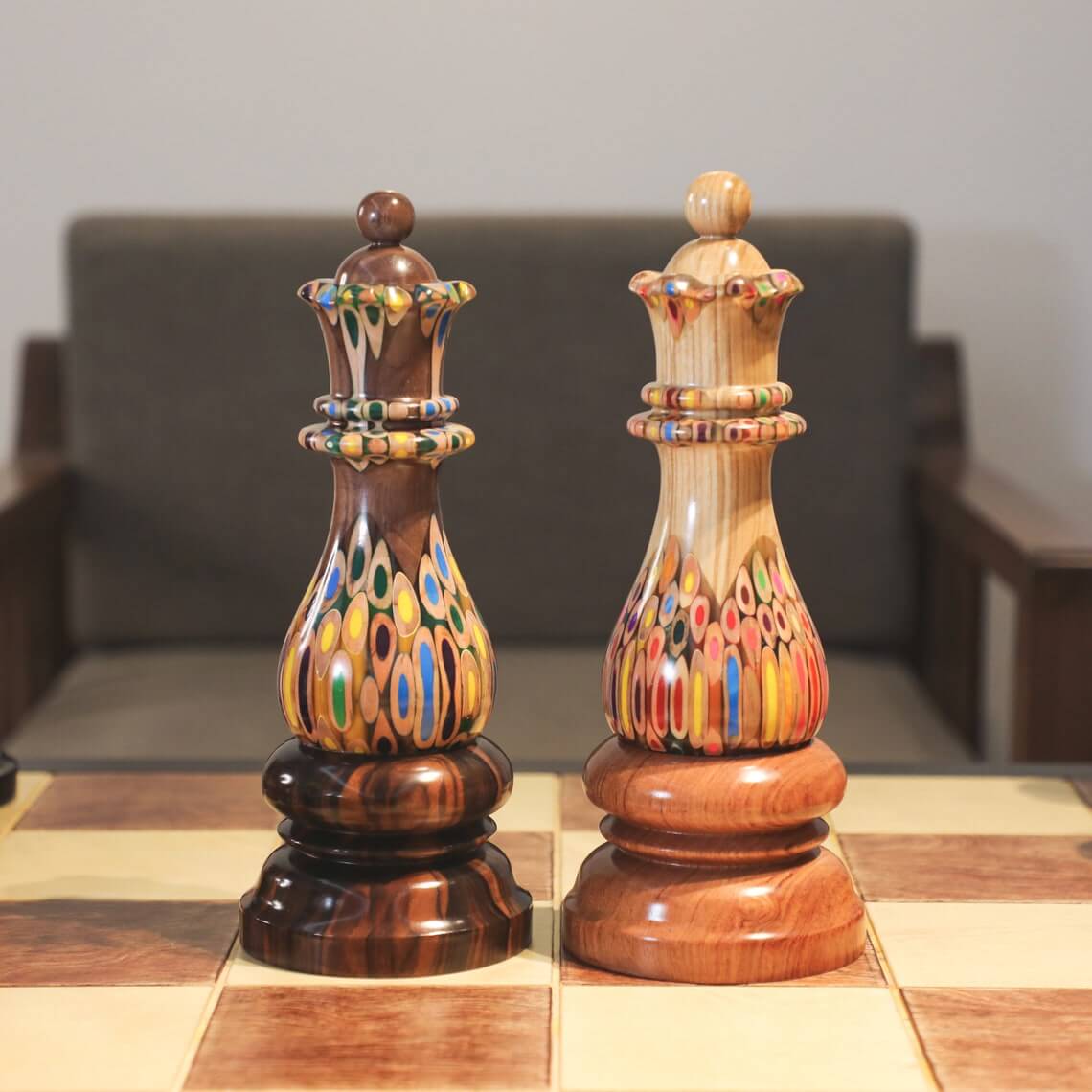 A Journey of Collaboration in Queen Chess Piece Decor
The creation of a wooden Queen chess piece adorned with colored pencils is a journey of collaboration between artisans and artists, between tradition and modernity. It is a testament to the power of human creativity to transcend boundaries and merge diverse elements into a harmonious whole. The piece encapsulates the essence of craftsmanship as a timeless endeavor and colored pencils as a versatile medium that bridges the gap between the tangible and the imaginative.