The "Color Pencils Giant Chess Piece Bishop," meticulously crafted by the talented hands of Henry Le Design, is an awe-inspiring masterpiece that seamlessly marries the realms of artistic expression and strategic ingenuity. This intricately designed chess piece serves as a captivating embodiment of both creativity and critical thinking, capturing the essence of the bishop's pivotal role in the fascinating world of chess.
With an unwavering commitment to excellence, Henry Le Design has poured heart and soul into every aspect of this chess piece's creation. The result is an exquisite representation of the bishop's form and significance, skillfully carved and meticulously finished to evoke a sense of both sophistication and awe.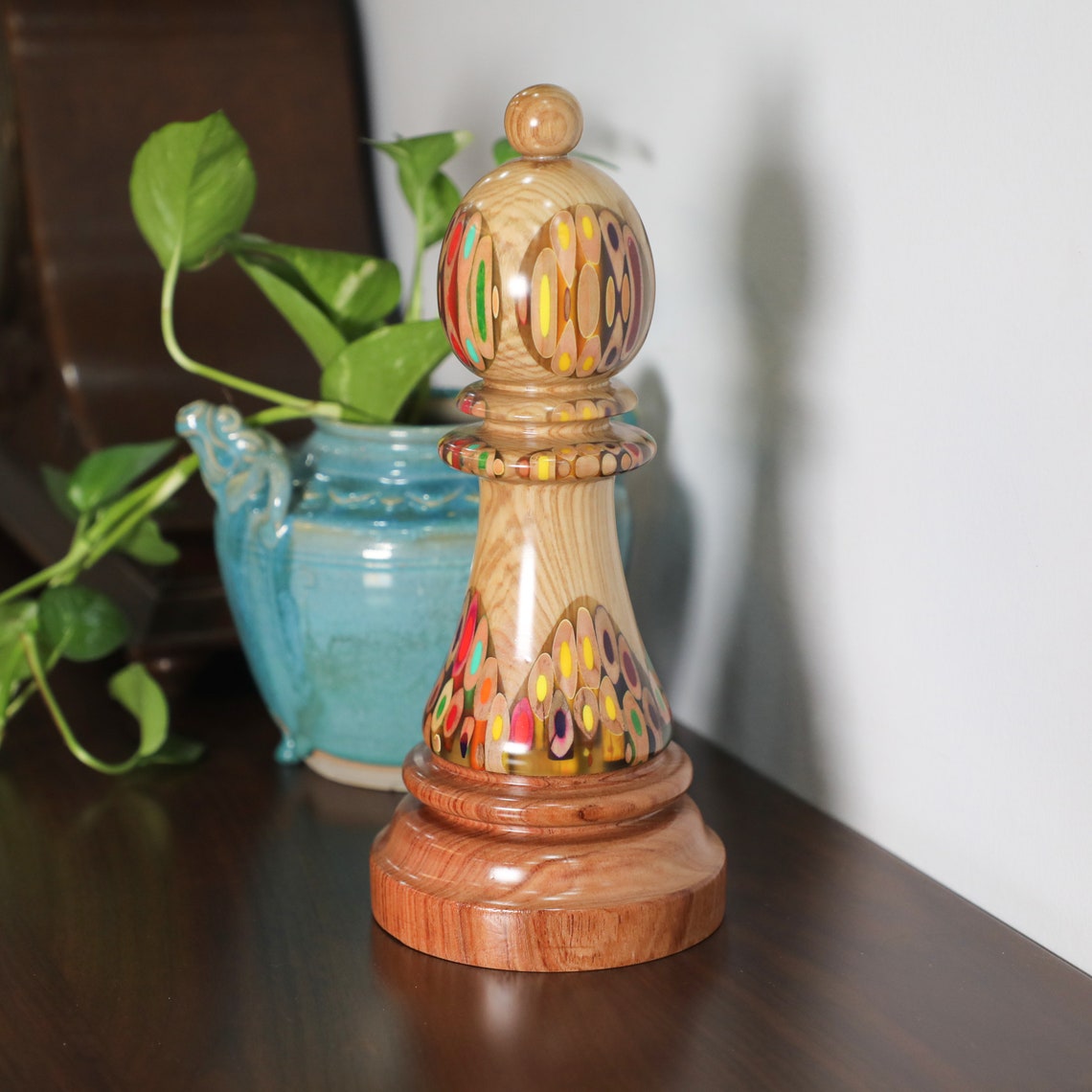 What sets this particular chess piece apart is not only its meticulously sculpted contours but also the ingenious use of vibrant color pencils in its construction. The interplay of colors brings a striking contrast against the traditional black-and-white chessboard, creating a visually captivating juxtaposition that draws the eye and adds an element of wonder to the overall design. The artist's choice to utilize color pencils—a medium typically reserved for drawing and illustration—adds a dynamic and unexpected dimension to this traditionally symbolic game.
The "Color Pencils Giant Chess Piece Bishop" is more than just a game piece; it is a true work of art that tells a story of innovation, passion, and creativity. As players navigate the chessboard, moving the bishop strategically to control diagonals and execute powerful maneuvers, they are also reminded of the enduring connection between the intellectual pursuit of chess and the artistic expression that fuels it.
Whether displayed as a standalone piece in an art collection or proudly positioned on a chessboard ready for play, Henry Le Design's Bishop chess piece invites all who encounter it to immerse themselves in the rich tapestry of chess's history and culture. It beckons players, enthusiasts, and appreciators of fine craftsmanship to explore the depths of the game, contemplating the intricate dance of strategy that the bishop so elegantly embodies.
In conclusion, the "Color Pencils Giant Chess Piece Bishop" by Henry Le Design is a captivating testament to the boundless potential of artistic vision combined with intellectual prowess. This unique fusion not only elevates the traditional chessboard but also invites us to reflect on the remarkable convergence of art and strategy that defines the game of chess.